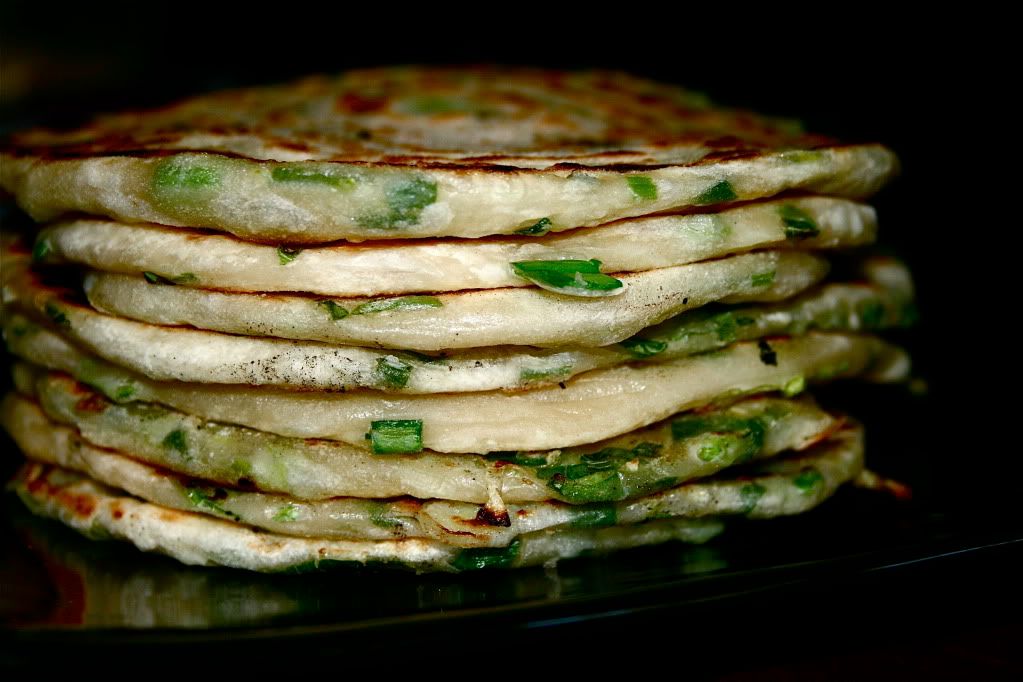 Very simple, easy and quick to make, soon you will find yourself no longer order spring onion pancake for an appetizer at your favorite Chinese restaurant. I normally serve this pancakes with hoisin sauce, or plum sauce. Delicious!
Charmaine Solomon's Encyclopedia of Asian Food
250 g (2 cups) all purpose flour
190 ml (¾ cup) boiling water
3 tbs vegetable oil + 1 tbs sesame oil, mix (for brushing)
salt to taste
4 spring onions or scallions, finely chopped (I used about 8)
Oil for frying
Place flour in a bowl, add boiling water. Mix with wooden spoon until it start to pull away from the bowl. Transfer to floured counter top, knead for 10 minutes until the dough is smooth. Form the dough into a ball, place it in a clean bowl, cover with damp kitchen towel. let rest for 30 minutes.
Form the dough into long log/cylinder, cut into 6 equal pieces (I cut them into 10 pieces). Roll each pieces into into a thin pancake, brush with oil, sprinkle with a little salt, then add (scatter) about 2 tablespoon of chopped spring onions or scallions. Roll this pancake like swiss roll, then coil up the roll like a snail. Tuck the end underneath, flatten with your hand, then roll once again into about 5 inches (12 cm) in diameter and a ¼ inch (6 mm) thick. Repeat the process with the rest of the dough.
Heat an iron skillet over medium high heat. Add about 1 tablespoon of oil, add the pancake (one at a time), turn the heat to low. Cook the pancake for about 2 minutes on each side, or until golden brown. Repeat with the rest of the pancakes. Serve immediately.