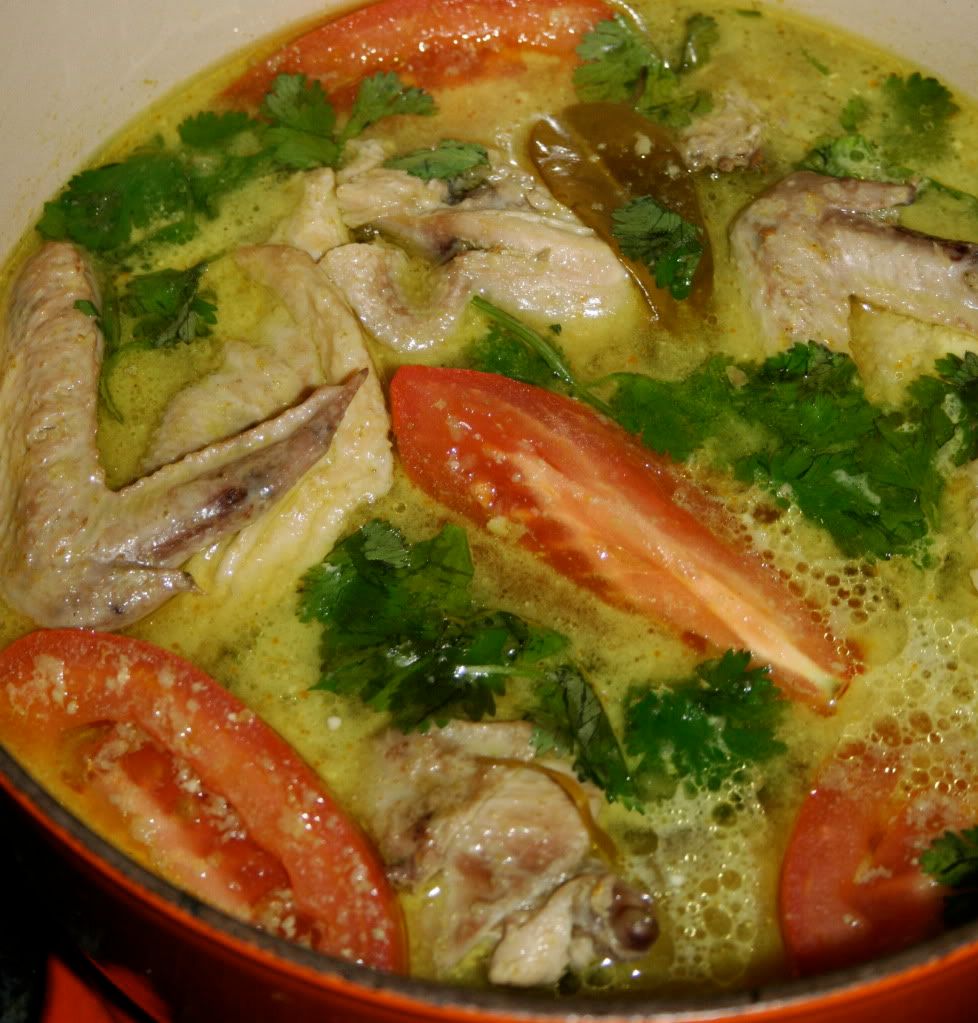 Extremely fragrant chicken stew, only a few ingredients involve, and doesn't require special technique other then basic chopping and grinding them all together in a food processor. Did I mention  quick to make as well?

2 Cornish hen (weight more or less 1½ pounds each), clean-quartered, place in a medium pot
3 shallots, chopped
5 cloves garlic, chopped
1 tbs heaped coriander seeds, grind in a coffee grinder
4 - 8 Kaffir lime leaves,
I used 8 - 10 just because I love the fragrant and I have this  trees grow in my backyard. For some of you, it might be challenging to find this leaves, plus it is probably expensive too, so using  just 1-2 leaves will still make your dish smell delicious
.
1 -2 Lemongrass, bruised and make a knot
2 slices fresh galanga roots, bruised
1 tsp fish sauce
salt and white pepper, to taste
½ cup coconut milk
½ - ¾ cup water, depending how thick you want your broth is
2 tomatoes, quartered
cilantro, for garnish~optional
Place the chicken pieces in the pot, place the pot   on the stove over medium heat, pour ½ cup of water over the chicken. Meanwhile make the paste.
To make the paste: place chopped shallots, garlic, coriander and ¼ cup water in a food processor and process to a  paste. Transfer to a skillet, and cook over medium heat  until all of the water evaporate, add 1 tbs canola oil, fry until fragrant about 5 minutes. Transfer this paste into the pot, add the rest of the ingredients. Stir, cover and cook for 35 to 45 minutes. Add the coconut milk, and the tomato, turn the heat low (do not cover), cook another  5 minutes. Add cilantro before serving if desire. Serve with plain steam rice.