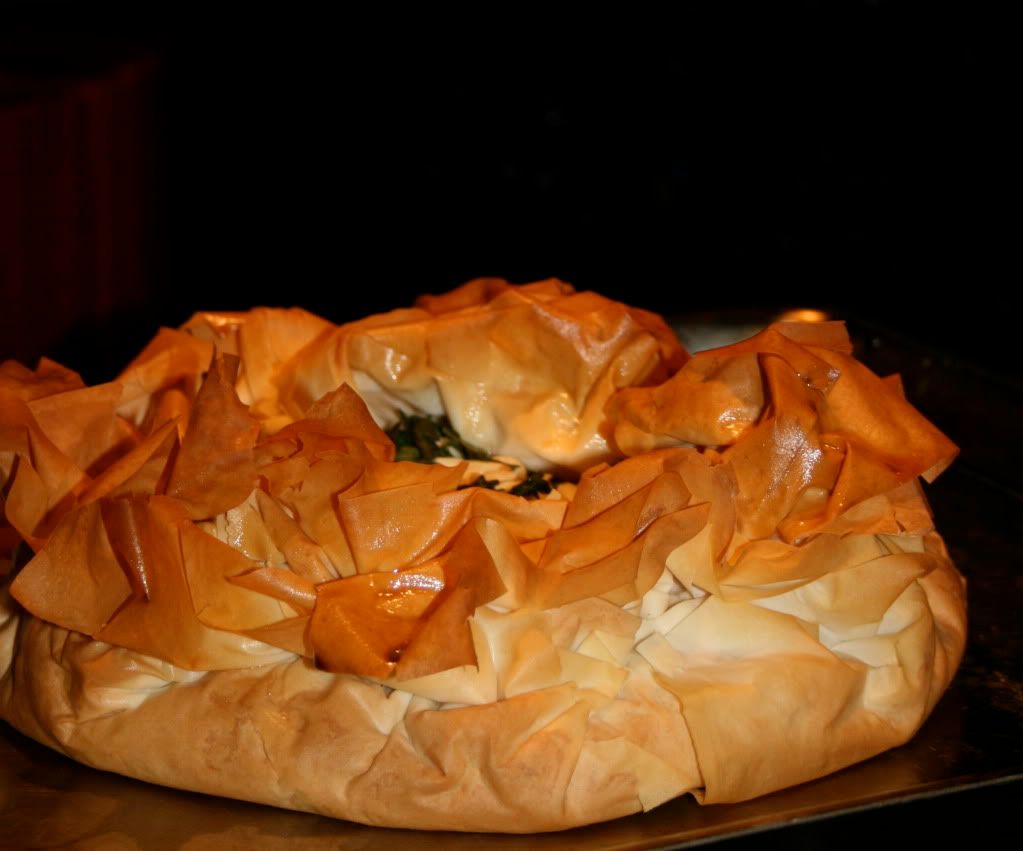 I have made
Duck B'stila
before and it was really good. I served it as an appetizer, sprinkled with sugar and cinnamon coating. However, for this Chicken B'stila I omitted the sugar-cinnamon coating since I served this as a main course with simple vegetable salad. If you'd like to serve this as an appetizer, I suggest you adding the sugar-cinnamon coating, it really add nice sweet savory flavor to it.
Ingredients:
1 small chicken, about 3 pounds
1 tsp ginger powder
1 tsp saffron treads
1 tsp ground cinnamon
½ tsp turmeric powder
1 tsp paprika
2 tbs olive oil
Salt and pepper, to taste
handful blanched almonds
handful pine nuts
3 tbs chopped fresh parsley
3 - 7 layers filo pastry, thaw according package direction
more olive oil for brushing
salt and pepper
Preheat the oven to 375⁰F. Clean the chicken and rinse under cold running water, pat dry with paper towel. Place the chicken a baking pan. Meanwhile make the rub. In a small bowl combine together ginger powder, saffron treads, turmeric, paprika, ground cinnamon, olive oil, salt and pepper. Rub the chicken including the cavity with this mixture. Bake for 1 hour. Transfer the chicken into a plate to cool completely, then seperate the flesh from the bones, coarsely chop the flesh. Save any of the juice left from the baking. Set aside.
In a medium skillet over medium heat, lightly toast the almond, and the pine nut. Set aside.
Take out the fillo pasry from the fridge and cover with towel to prefent them from drying out. Lay one sheet of filo pastry over the baking sheet, brush with olive oil, continue to work overlapping the pastry and brush each sheet with olive oil, until you use up all the filos (7 layers thick). Spread the chicken mixture in the middle of pastry, drizzle with the juice you save from the baking, top with almonds and pine nuts, sprinkle with parsley. Gather the pastry to slightly enclose the filling, brush the top pastry lightly with olive oil.
Bake for 20-25 minutes or until the pastry is golden brown. Serve immediately while it is still piping hot with any vegetable salad of your choice.