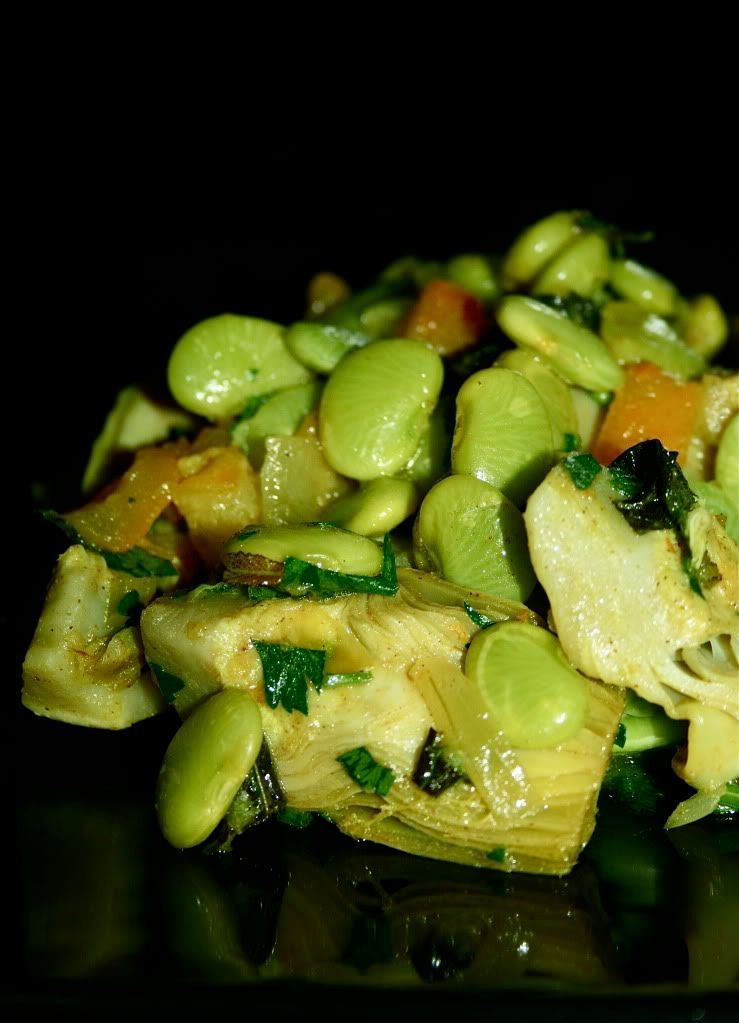 This is very healthy and delicious vegetarian meal. It can be serve as a side dish, also good as a main dish with plain or spiced couscous, or with rice pilaf.
Serve 2 as a main dish or 4 as a side dish
1 bag (12 oz) frozen artichokes
¾ cup frozen fava bean
½ cup diced onion
1 clove garlic,sliced
1 teaspoon ground ginger
½ tablespoon ground cinnamon
½ teaspoon turmeric
½ cup to 1 cup chicken stock (depending how much liquid you want it)
1 - 2 tbs olive oil
salt and pepper, to taste
¼ cup chopped Italian parsley
¼ cup chopped mint
Discard the pulp of the preserve lemon, rinse under running water to get rid of the saltiness. Roughly chopped.
Heat olive oil in a

Tajine po

t

or a

braisser

over a medium heat, add the onion and cook until soft and translucent, add garlic cook another one minute. Add the artichokes, fava beans, and the rest of the ingredients including the chicken stock, stir to mix. Cover the

Tajine pot

with its lid, and cook for 20 minutes, or until the vegetables are tender. Add the chopped parsley and mint, stir, taste and adjust seasoning as needed. Serve with plain or spiced couscous.
Note: feel free to use fresh artichokes, and fresh fava beans! I used frozen artichokes and fava beans because I wanted something quick.