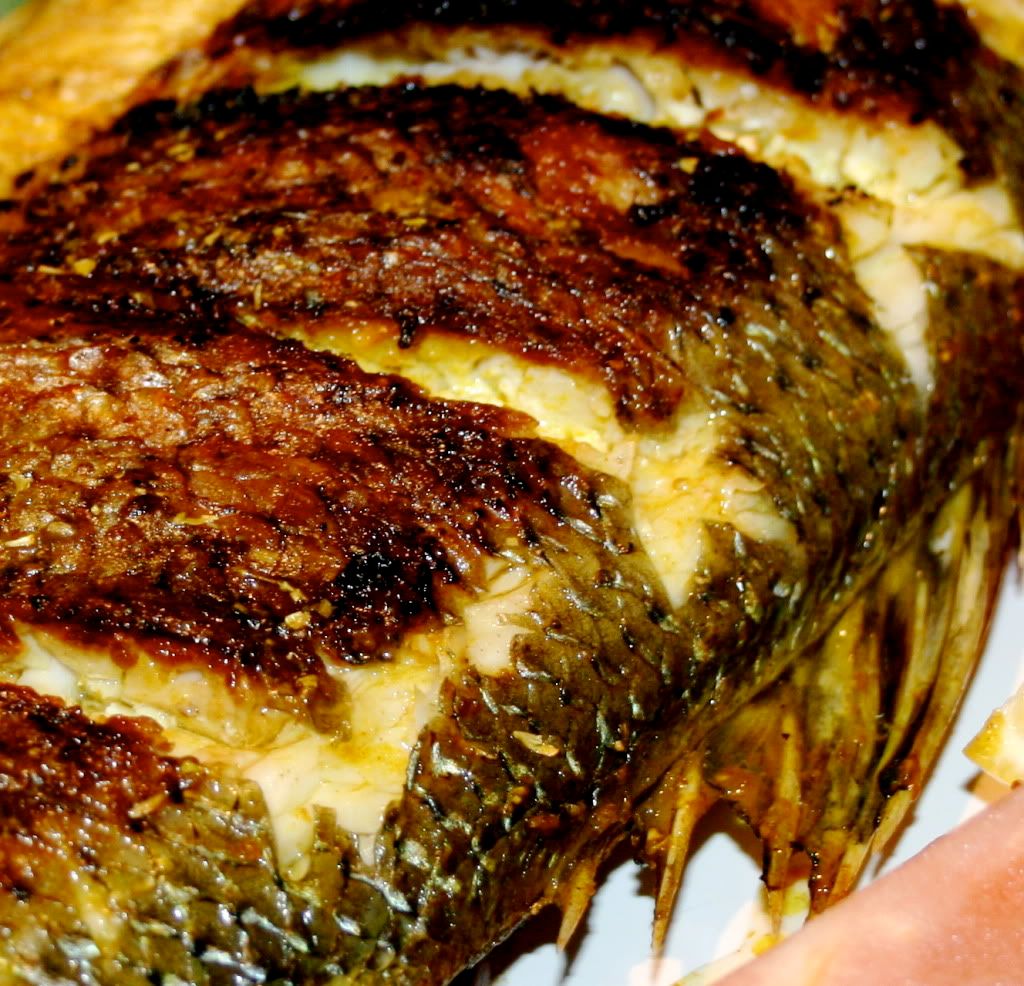 This is very simple and common grilled fish throughout Indonesia. It is very popular, and they all have the same basic recipe to flavor the fish before being grilled. The common fish they use either snapper or cat fish. I like to use many different kind of fish (except Tilapia and Cat fish, which my family definitely won't eat). This time,
I
make it with Stripped Bass and they really love it, especially my husband. He keep saying how good it was, and really wouldn't mind to have this often for our supper. To make the grilled fish you will need to marinate the fish for at least 5 minutes with these ingredients:
1 tsp ground turmeric
1 tbs ground coriander
1 tsp or more garlic paste, a few garlic pounded in mortar and pestle
1 - 2 tbs olive oil
salt and pepper
Mix all ingredients, make a few slits on both side of the fish, then rub this paste over it including the cavity. Let the fish marinate for 5 to 15 minutes. Grill on each side for 7 minutes or until the fish is cooked completely. Depending on the size of your fish, you might need to adjust the amount of your ingredients and your cooking time. The recipe I give here is enough for fish weight about 1¾ pounds.
Sambal kecap is basic sauce for many grilled or fried dish (normally fish, tempe and tofu) in Indonesia. It is very simple and quick to make. The ingredients are readily available in most supermarket in the U.S. Although "
Kecap Manis
" might be a bit challenging to find in some of the grocery store, I am pretty sure you can easily find it at the Chinese grocery store. To make this sambal you will need (no exact quantity, just use your own imagination):
Chopped shallots
Chopped Thai chiles
Chopped tomatoes
Kaffir lime or lime juice
Kecap manis
Place all ingredients in a small bowl, and mix.
It is very common to serve this grilled fish with
lemon basil
(I can't find it here, so I used Thai basil instead), tomatoes,
Kaffir lime
(
unfortunately none of my tress give me any fruit yet, I used lemon. If you have lime, any lime, this fish will taste much better)
and normally along with other vegetables such as, raw cabbage, raw
mini/Kermit eggplants
, cucumber, raw
Yardlong bean
(Chinese snake bean), steam water spinach or red spinach, steam carrots, and grilled
Petai bean
. Not to forget, hot steaming rice and some
kerupuk
(crackers) to complete the meal. You sit on the floor and eat with your hand. Hmmm, my husband never tried that experience, and I am pretty sure he, like many Westerner will have a hard time to do it. So I wouldn't even try!
Here, at home in the U.S, I serve this with any saute green or, what ever vegetables available in hand. Of course, if my sisters are with
me
, then we will have all of those different kind of raw vegetables
aka
Lalapan
in Indoensia like this photo over
here
, is a good example what lalapan is.