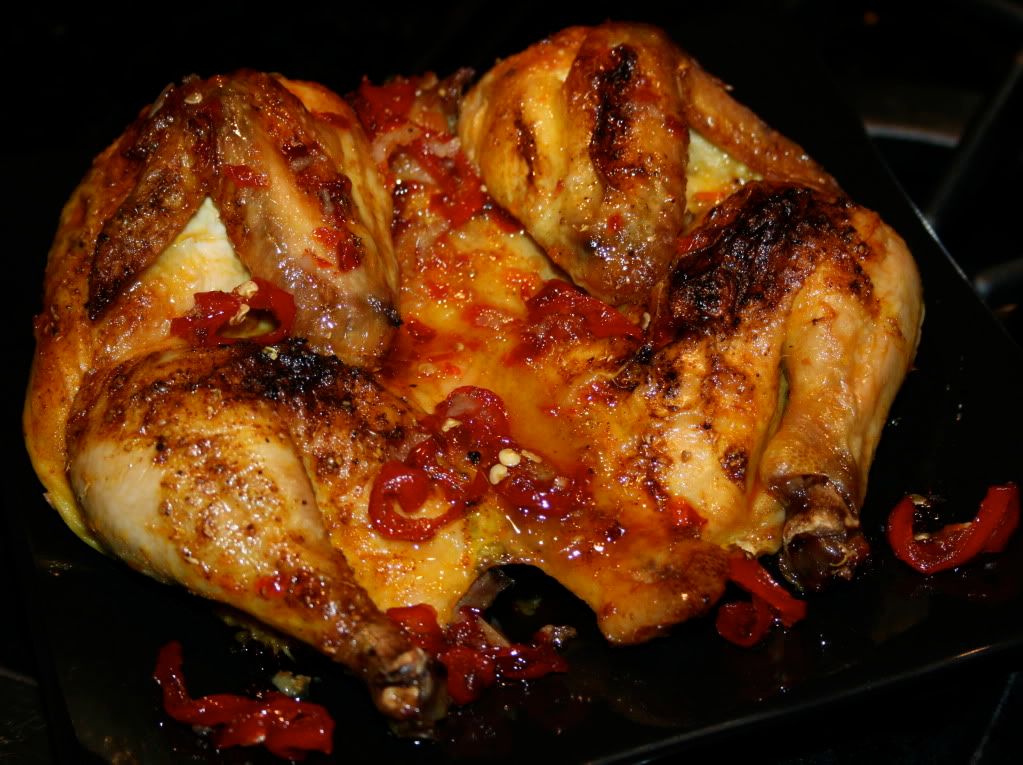 Nothing could be more simple then making this Gai Yang Hens. You just need to roast or grill your hens, then make the sauce. Not too many ingredients involve, but
I
can assure you that you will be making this pretty often. And
I
am very sure that my sisters will going to love this one as well.
The sauce is extremely easy to make, the only challenge you might have is to find the
Coriander's root
.
I
am lucky to have
this plant
, and this is the other reason why
I
let my
coriander plant
to grow old and having seeds, so I can then harvest both the seeds and the root. If, by any reason you can't find the root, do not substitute with anything else.
I
would just simply omit it. It is better then having a completely different flavor.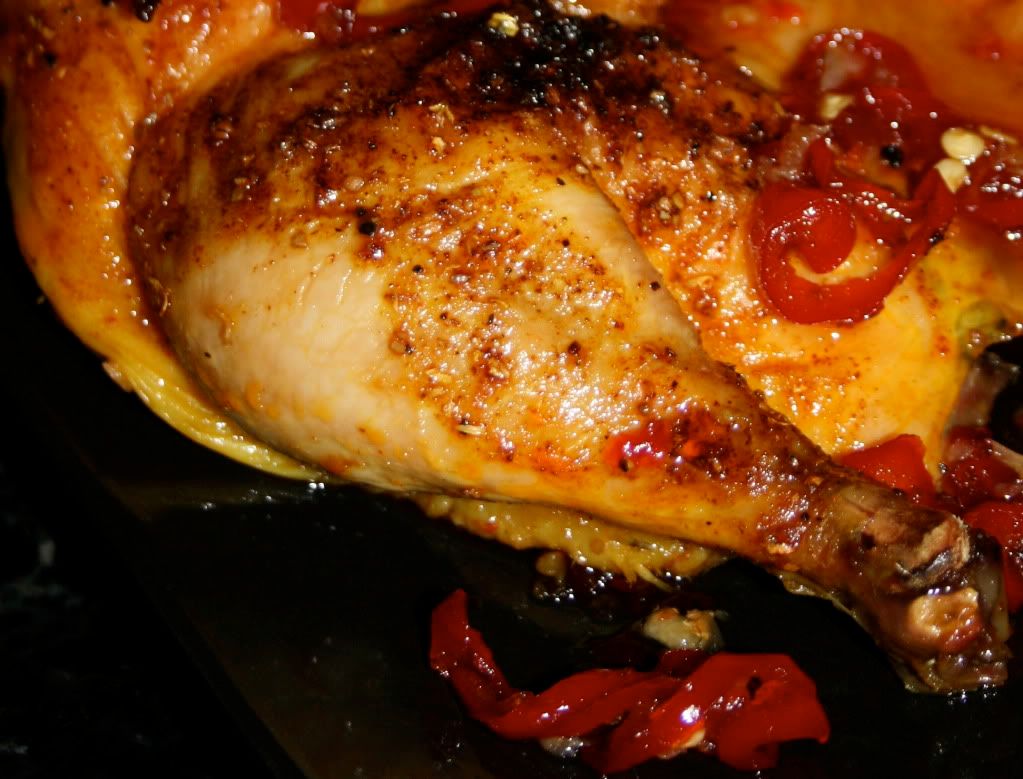 To make it even quicker and easier, you can skip the process of pounding/grinding the fresh chilies by using a ready made
S
ambal Ulek
(
Sambal Oelek
) or use chili powder/flakes instead. My preference when
I
am in a hurry is using Sambal Ulek and add thinly sliced red Jalapeno or Thai pepper. It is entirely up to you which one you choose, then end result is really good.
For the hen:
2 Cornish hens, weight about 1¾ lbs each, butterflied (clean, cut along the breastbone, and flatten with your palm)
2 tbs canola oil, or olive oil
2 tbs finely chopped garlic
1 tbs fish sauce
¼ tsp white pepper powder
Make the marinate by combining canola oil, garlic, coriander's root, fish sauce and the white pepper powder in a small bowl. Set aside.
Place the cleaned hens in a large dish, pour the marinate, make sure to coat all side of the hens. Place the hens in the refrigerator for a few hours, or overnight. If time is limited, you can marinate this for 15 minutes, is still going to be good.
Preheat the oven to 400⁰F
Place the hens on a roasting pan, discard the marinate liquid. Roast the hens for 45 minutes, or until the hens is cooked thoroughly.
Transfer the hens to a serving dish, pour a little bit of sauce over the hens, and place the remaining sauce in a small bowl. Serve with steam Jasmine rice.
The sauce:
2 tbs finely chopped garlic
2 tbs sambal oelek
2 red jalapeno, thinly sliced
1 tsp finely chopped coriander root
1 cup white vinegar
¼ cup water
1 cup sugar
1 tbs fish sauce
Gently boil all ingredients in a small sauce pan until it is slightly thicken (syrupie) . Remove from the heat and let the sauce cool at room temperature.