Such an easy recipe, the only thing you need is
patient

,
as you have to slice the potatoes thinly, and arrange them neatly into a nice layers. The
mandolin
certainly will safe you time for the slicing, but
I don't have one
, and I don't feel the need to have it either. For now, I am happy using my knife for the job.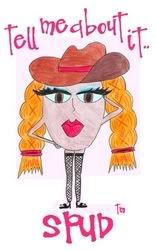 This recipe goes to the monthly
PHd
, created by
Cathy
and
Krysta
. Care to join? Have any potato dish that you would like to share with us? Please
visit
this site
to find the information. It's totaly easy! This month roundup will be hosted by
Cathy at Noble Pig
on Wednesday, May 20, 2009. Please send your entries to
cathy@noblepig.com
by Monday, May 18, 2009.
Ingredients:
2 pounds Yukon gold potatoes
2 - 3 tbs garlic infused olive oil, or use regular olive oil, or butter if you like
Preheat oven to 400⁰F. Grease or butter an 8-inch round cake pan. Set aside
Peel the potatoes, slice thinly using mandolin if you have one. I use regular chef knife. Dry them with kitchen towel.
Arrange the potatoes slices overlapping them in circular pattern, starting from the center of the pan, all the way to the edge. Drizzle with oil or melted butter. Repeat the pattern starting from the center, drizzle with more oil. Continue to layer the potatoes in the same manner until you use up all of them.
Cut a piece of parchment pepper into rounds to fit the size of the pan, and place it directly on top of the potatoes layers.
Bake for 1 hour to 1½ hours, or until the potatoes are cook and look brown.
Remove from the oven. Let rest for 5 minutes, remove the parchment paper. Run a knife around the edges to loosen any potatoes that are sticking to the side. Place a serving plate on top of the pan, carefully flip the pan over. Serve cut into wedges.