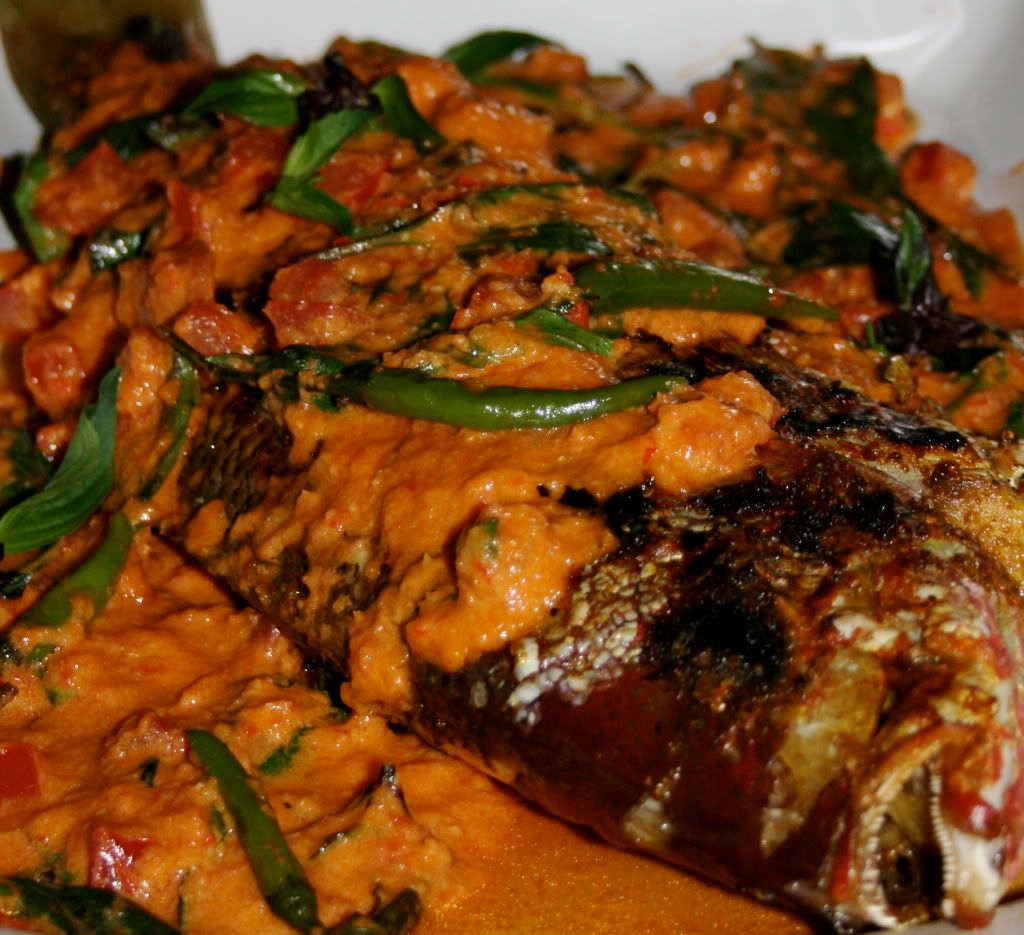 The
kemiri nut
(normally available at the Asian store) in this sauce not only for the flavoring, but also to thicken the sauce. If the
Kemiri nut
is not available or hard to find, Cashew will be the best substitute.
1 whole (about 2 pounds) yellow tail Snapper, cleaned-gutted
1 tbs coriander seeds
½ tsp turmeric powder
½ tsp salt
2 tbs canola oil
Rinse the fish under cold running water, then pat dry with paper towel. Make three slashes on each side of the fish. Place on a large plate, set aside while you make the marinate.
Coarsely grind the coriander seed, transfer to a small bowl, add turmeric, salt and the canola oil. Rub this mixture all over the fish, don't forget to stuff some of the marinate into the cavity. Let marinate for at least fifteen minutes.
Grill over medium heat for about 5 to 10 minutes on each side, or until the fish is cooked.
Pour the sauce on top, garnish with fresh basil, serve hot with steam Jasmine rice, and simple green vegetables.
The Sauce:
3 shalots, chopped roughly
2 cloves garlic, chopped roughly
2-3
Kemiri
or Candle nuts, chopped roughly (if using Cashew, use about 10 to 15)
2 red jalapeno, chopped roughly
½ teaspoon
kencur
(Zedoary) powder
½ tablespoon fish sauce
¼ cup coconut milk
¼ cup water
5 - 10 Thai chilies, leave whole
a few handful lemon basil, or Thai basil
2 tbs Canola oil
Put the shallots, garlic, candle nuts, red jalapeno in a blender, add a few tablespoon of water and process until smooth. Place this mixture onto skillet, add the kencur or zedoary powder, and fry this sauce with oil on a medium heat until fragrant, about 5 minutes.
Add the coconut milk and water, turn the heat to low, add the fish sauce, stir and continue to cook on low until bubbles start to appear at the edge of the pan. Do not let the sauce to become a boil, or it will be separated. Although, this will not change the taste, it will give the sauce unpleasant appearance. Add the whole Thai chiles and the fresh basil, taste and adjust seasoning if needed, turn of the heat. The sauce is now ready.
Note:
If you do able to find Kemiri nut or Candle nut, make sure you store them properly, preferably in the freezer, out reach of children as
this nut is poisonous and should never be eaten raw
. The nut has to be crush together with other ingredients into a smooth paste, then cook.
Once cooked, it is quite safe to eat
. Kemiri nut look very similar to macadamia nut, but I wouldn't recommend to use macadamia as a substitute, as they are quite different in taste.