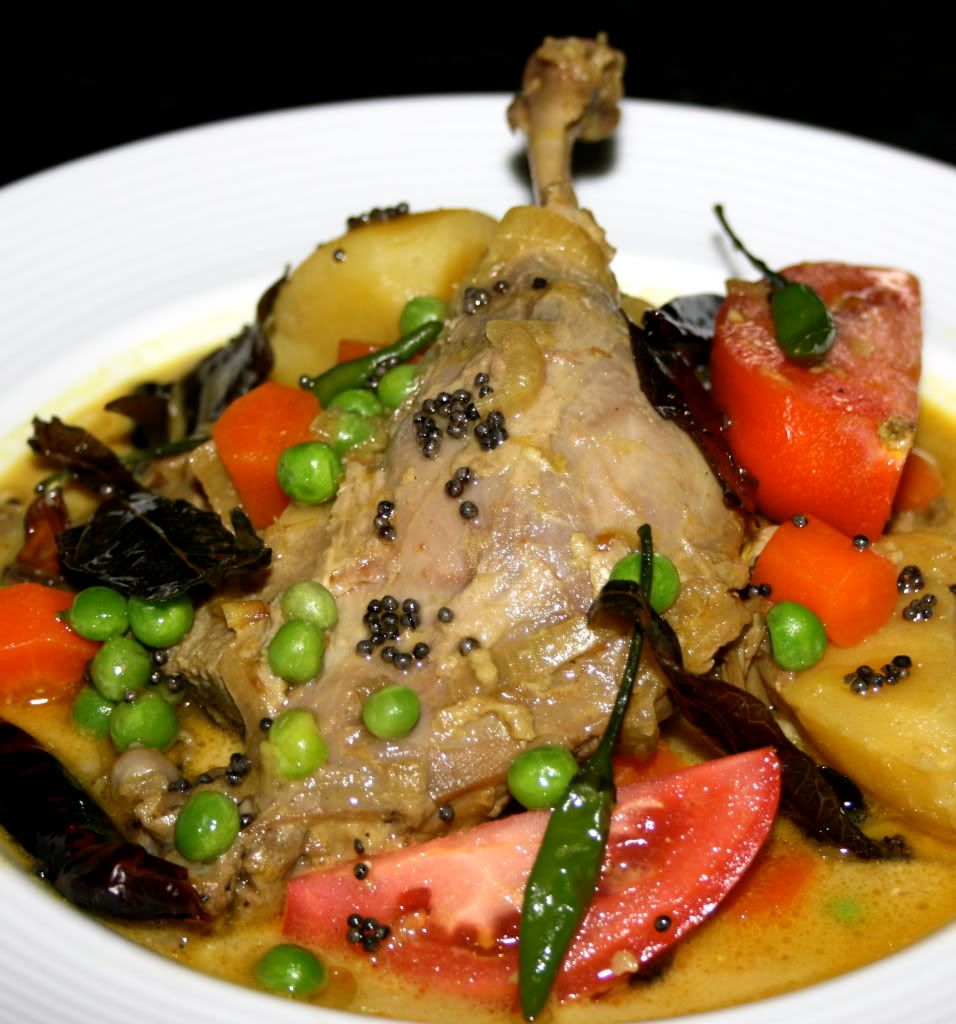 I love duck, the meat is flavorful, and i don't have to wait for a special occasion to cook it. You can make any dish from the duck as you would make from chicken. Asian market normally carry duck legs, or you can probably special order them in your grocery store too. Otherwise, buy the whole Moscovi Duck, cut them into pieces, save the breast for other use. I like to use Moscovy duck as it is almost 40% leaner than a Peking Duck, the meat is rich and flavorful, I personally think that it is perfect for making any type of spicy curry, such as Thai, Indian, or South East Asian curry. You can use chicken for this recipe, adjust the timing for cooking accordingly.
Although it is leaner then Peking Duck, it is still fattier then chicken, you really need to skinned the leg before using them for your curry. Otherwise you curry will swim in oil, and will be unpleasant to eat them. What I did was, brown the duck a little bit, as soon as its cool down a little, I pull out the skin.
Ingredients:
4 whole skinless duck legs
2 tablespoon canola oil
¼ cup sliced shallots
2 garlic cloves, sliced
3 whole cardamoms
1 cinnamon stick
2 cloves
1 whole star anise
1 teaspoon cayenne pepper
water
4 medium size yukon gold potatoes, peel and cut into big chunks
4 carrots, peel and slice
1 small can (5.6 fl ounces) coconut milk
2 Roma tomatoes, quartered
½ cup frozen green peas
5 - 10 Thai green chilies, leave whole
salt and pepper
Seasoning:
1 teaspoon black mustard seed
2 tablespoon canola oil
15 fresh curry leaves
5 dried chilies
In a large soup pan, fry the shallots with canola oil over medium heat until the shallot is soft, add garlic. Saute for 20 seconds. Add to the pan: garam masala, cardamom, cinnamon stick, clove, the whole star anise, and the cayenne pepper. Stir and saute until they releases their fragrance.
Add the duck to the pan, add water just enough to cover the duck. Let the water to a boil, then turn the heat to low. Simmer slowly for 1 hour, add more water if you find during this time the water is reduce too much. Add the potatoes, and carrots, cook for another 30 to 45 minutes, or until the duck is tender and the potatoes are cooked.
Still on low heat, add the coconut milk, Roma tomatoes, frozen green peas, and Thai green chilies, season with salt and pepper. Stir and continue to cook just until the peas are changing into darker color. Do not let the broth to become boil, or the coconut milk will break and separated.
Meanwhile, heat the oil a small frying pan over medium low heat. Add the mustard seeds, cover with the lid, as soon as you hear the mustard splutter, add the rest of the ingredients. Fry for a few seconds. Turn off the heat. Pour this seasoning into the duck curry and stir briefly. Taste to see if need more salt. Best serve with plain basmati rice.