Here is another recipe that I like to prepare during the week. Almost all grocery store I know will carry Red Snapper fillet, with or without the skin on. If you can't find them at your grocery store, fillet your own, check
here
(it's so cool) how to fillet your own fish. I had 3 medium size fillets weigh more or less about one pound.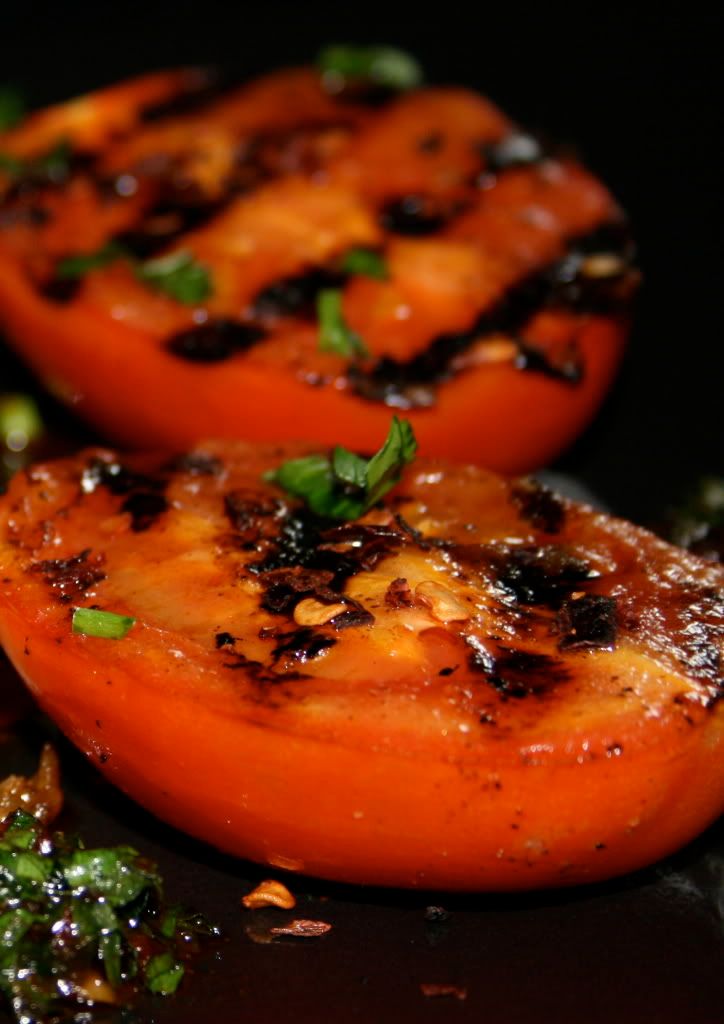 The grilled tomato is delicious, versatile to serve with any kind of main dish. To make this grill tomato, simply cut the tomato in half, brush with a little olive oil, season with salt and pepper. Grill until a little bit soft and until you get that beautiful mark.
I also like to make a lot of this parsley sauce, I put them in a jar, then store in the refrigerator up to two weeks. I use it for everything from fried rice, stir fry, even to spice up my soup. it is delicious and can be quite handy, especially if you don't feel like spending too much time in the kitchen.
Please note that, there is no exact measurement for this ingredients, it's all depend on your taste, if you like it more spicy, add more paprika and chipotle pepper. If you like, you add more parsley as well. So, use this ingredients as a guideline and apply them according to your taste.
The recipe:
2 - 3 (about 1 pound) Red snapper fillet, pat dry with paper towel
1 to 2 tbs olive oil
1 tbs lemon juice
salt and freshly ground black pepper
For the Sauce:
¼ cup finely chopped parsley
1 tbs paprika
2 tsp smoked chipotle pepper flakes
¼ cup olive oil (or butter, if you are not too concern about your heart)
1 tsp fish sauce
salt and pepper to taste
Grilled tomatoes, for serving
To make the fish:
In a small bowl, combine olive oil, lemon juice , salt and pepper. Mix well. Rub the fish with it and let sit for 5 minutes.
Grill the fish for about 2 minutes on each size (depending on the size of your fillet, cooking time may vary). Transfer to a platter. Drizzle the sauce on top, serve with

Iranian Rice

or

couscous

, and simple grilled tomatoes.
To make the sauce: