Honestly, I am not sure how I suppose to serve this Souflé, I just eat it by itself. I suppose I can also serve it with maybe grilled poultry or fish, and some stew vegetables. It's good on its own.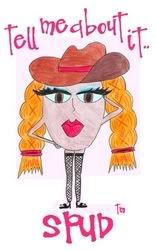 This recipe goes to the monthly
PHd
, created by
Cathy
and
Krysta
. This month event host is Krysta. Care to join? Have any potato dish that you would like to share with us? Please
visit this site
to find the information. It's totaly easy!
I was surprise how easy it was to unmold this Souflé, So I took a chance to photograph it, now you know how the inside of this souflé look like. Pretty, ain't it?
I found therecipe in one of my very very dilapidated cookbook,
Modern French Culinary Art, by Henri-Paul PELLAPRAT.
The original recipe call for potato, but I really want something with vibrant and beautiful color. First I thought, I might use sweet potato, but I already use sweet potato a lot for my bread, when I saw purple yams, I didn't even think twice. Just grabbed them and go!
Recipe Adapted from Modern French Culinary Art
2 cups mashed potatoes (I use purple yams, and mashed but still had some chunks to it)
¼ tsp ground black pepper
1 tbs minched onion (I used shallots)
¾ cup grated gruyerèor cheddar ( I used 1 cup gruyerè)
Mix the mustard and water, let stand for 5 minutes. Beat the whole egg, and the 2 egg yolk together. set aside. Butter only  the bottom of 4 ramekins, set aside. preheat oven to 350⁰F.
Combine the smooth mashed potatoes with milk, salt, black pepper, and minced onion, and beat until fluffy. Add mustard - water mixture, the cheese, and the beaten egg. Mix to combine.
Beat the egg whites until form a soft stiff peaks. Carefully fold on the potato mixture. Divide the mixture evenly among the ramekins. Bake the souflé until well puffed and the top is flecked with brown, about 20 minutes. Serve at once!
Just to show you how stunning this purple yam is, it just blow my mine. Taste wise? it's plain, I like yellow or orange yam better.