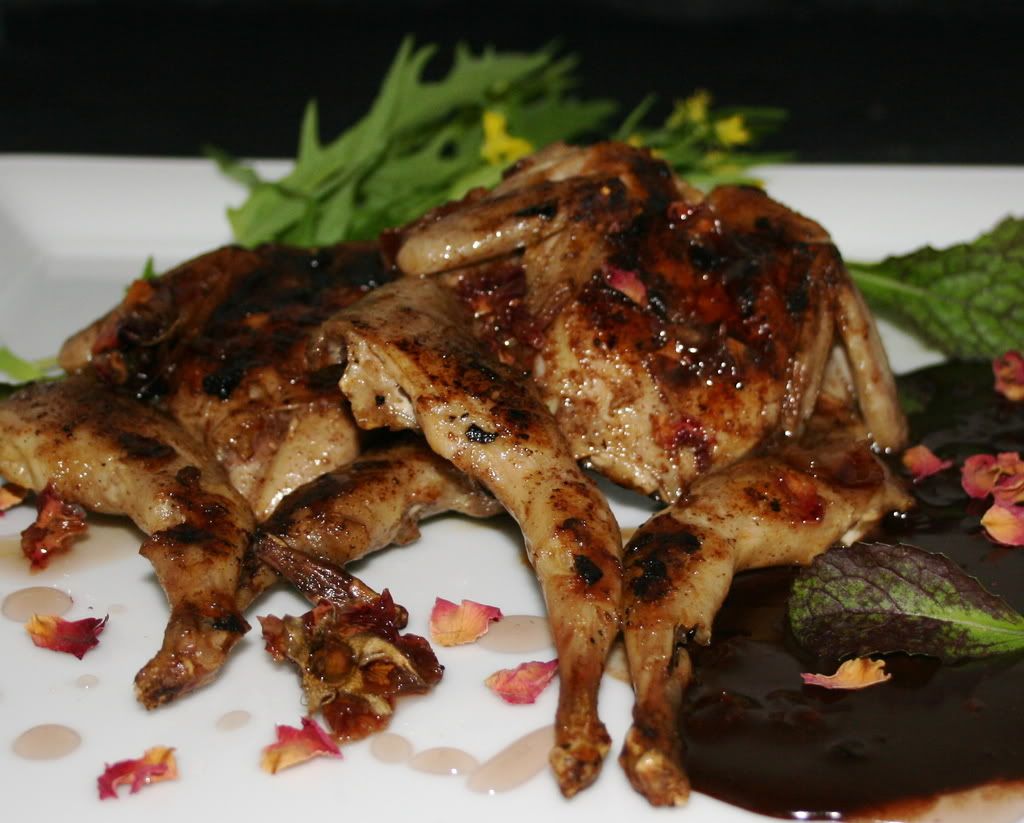 I love the delicate scent from the rose petals jam, and the smooth chocolate sauce was really interesting addition to the dish. In the future, I will add some smoke chipotle pepper to the sauce.
Recipe adapted from
MORO
, the Cookbook
4 quails
1 garlic clove, minced
1 tsp cumin
1 tsp cinnamon
3 tbs rosewater
1 tbs lemon juice
black pepper
Rose-petal and chocolate sauce
3 tbs rose petal jam (recipe follows)
½ tsp ground cinnamon
1 tbs olive oil (I used 1 tbs unsalted butter)
3 oz unsweetened chocolate*
Mix the ingredients for marinate, rub over the quails. Marinate at least 2 hours, or overnight in the refrigerator.

To make the sauce

: Melt the chocolate, and the butter together over low heat, add the cinnamon stick. Turn of the heat, add the rose-petal jam. Mix to combine. If the sauce become to thick, add a little bit of cream or milk.
Grill the quails breast side up 5 to 8 minutes depending on the heat of your grill. Then turn over, cook for another 5 minutes, or until the meat is no longer pink but is still juicy.

To serve:

spoon a few tablespoon of the sauce on each individual dinner plate, place one quail in the center of each plate, dress each plate with simple salad, garnish with fresh or dried rose petals, and some chopped pistachios if you like.
* Recipe in the book does not have any chocolate, I added this to match the theme for these event.
Recipe adapted from: The Food and Cooking Of TURKEY
450 g fresh or dried rose petal (obviously you'll use fresh rose petal that's free of pesticides)
350 ml water
450 g sugar
Juice of 1 lemon
If using fresh rose petals, trim and clean/rinse with clean water, then drain. Make sure they are thoroughly drained.
Pour the water into a large heavy pot. Add the rose petals and bring to the boil.
Strain the petal into a bowl, and return the rose scented water to the pan. Add the sugar, and bring it to a boil. Stirring constantly, simmer until the liquid thickens about 10 minutes. Stir in the lemon juice and the strained rose petals, continue to simmer for another 10 minutes.
Leave to cool in the pan, it should be thick and runny. Transfer to a sterilized jars and keep in a cool, dry place for up to 6 months.