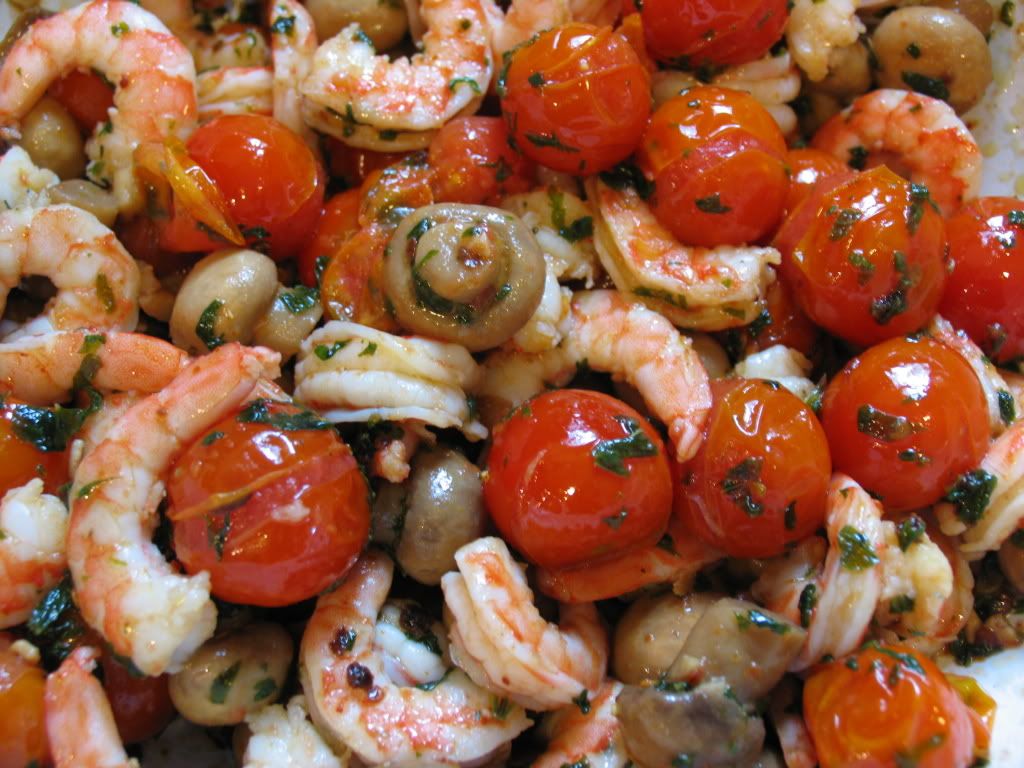 I like this recipe since I can conveniently prepare a couple of hours a head before my guests arrive. It is uncomplicated recipe, and perfect for any party. It can be serve cold as an hors d'oeuvres, or serve in a bed of lettuces as salad. It is also nice serve warm with
spiced couscous
as a main dish.
Ingredients:
16 oz (1 lb) small to medium size shrimps, cleaned (or buy the one that is already cooked)
1 jar (16 oz) garlic marinated button mushroom
1 pint cherry tomatoes
3 cloves garlic, sliced
¼ cup parsley
½ tbs smoked pimento
1 tbs smoked chipotle pepper flakes
Zest of 1 lemon
Zest of 1 orange
Juice of 1 lemon
½ cup finely chopped fresh mint leaves
2 tbs olive oil
salt & pepper, to taste
Cook shrimp with 1 tbs olive oil in a large skillet over medium heat, until pink on all sides. transfer to a large bowl, set aside.
Return the skillet to the stove, add ½ tbs olive oil, and cook the cherry tomatoes just to soften them a little bit, about 1 minute. Transfer to the shrimps bowl.
In the same skillet with medium heat, add the remaining olive oil, add garlic, fry until fragrant, add the the rest of the ingredients. Cook for one minute, turn off the heat. Pour this mixture to the shrimps-tomatoes bowl. Stir to coat all, season with salt or pepper. Cool, then refrigerate at least an hour to let the flavor deepen. OR, serve right away while it is still hot with steam rice, couscous, or

spiced couscous

.