The theme for this week is
"Be Thankful"
, and share your family recipe, that will remind you of your heritage, or your families tradition.
I am thankful that my grand mother handed down the recipe to my mom, thankful that she always made this dishes when we were growing up. Now that I have a family of my own, I am so thankful that I can cook this humble dishes for my own family. Last but not the least, I am also thankful of this week theme chosen by
Lauren
.
These Are the food that we always had when we were growing up. They were humble food, delicious, and my mom would actually made them herself without the help of our maid. Though I would never consider her as a great cook, she did made few dishes that were memorable. These were a few of her dishes that I consider memorable.
When she cook, which was very rare site for us (most of the time our maid, did the cooking for us) she never really referred to a cookbook. She loved to say, "oh, this is how my mom used to make it". So, these recipes actually came from my grand mother (from my mother side of family) to my mom, then to us. And, eventually to my son, nieces, and nephew, hopefully!
Here they are: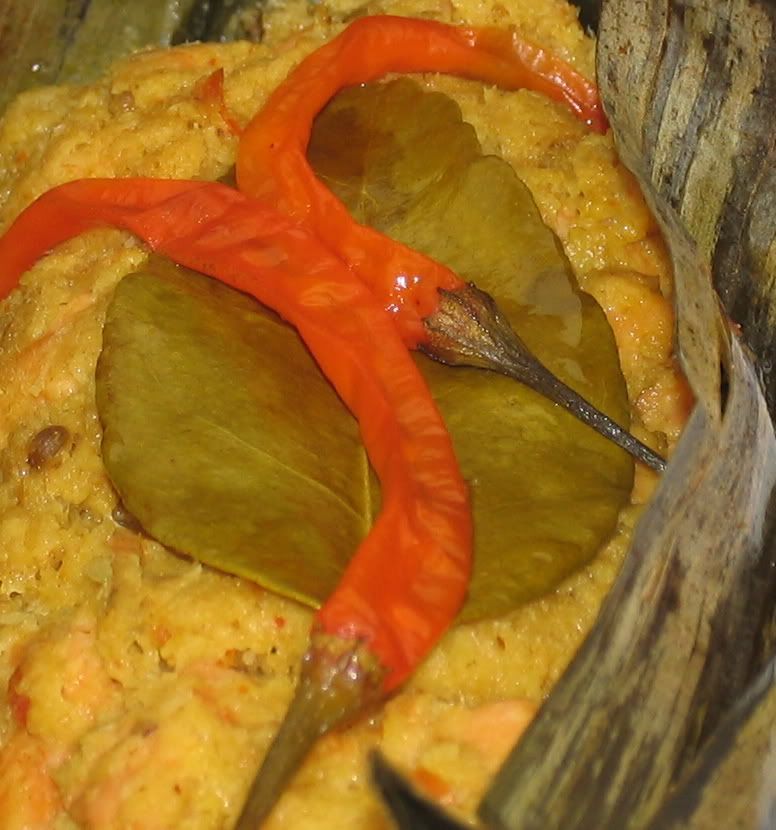 Pesan Be Pasih Mebase Nyuh
(Spiced Salt Water Fish With Grated Young Coconut
Wrapped In Banana Leaves)
Very Delicious. My mom will make this with tuna, and occasionally would use tofu instead, and it was equally delicious.
Recipe:
Makes more or less 3 parcels
2 cups cubed (about 1" cubed) tuna, or salmon, or tofu,
1 cup very young fresh grated coconut
(can be found at gourmet market, or asian market in a freezer section)
3 medium size shallots*
3 cloves garlic*
5 or less fresh Thai chilies*
¼" fresh turmeric, or ¼ tsp powder*
½" kencur (zedoary), you can use ¼ tsp powder zedoary*
1" fresh ginger*
½" fresh young galangal*
1 tbs coriander seeds
3 whole candlenuts, no substitute
shrimp paste, can be substitute with ½ tbs fish sauce*
6 fresh kaffir lime leaves*
1 to 2 tbs oil
salt, to taste
6 fresh cayenne pepper, or fresh Thai pepper, leave whole (optional)
Fresh banana's leaves, or parchment paper
6 tooth picks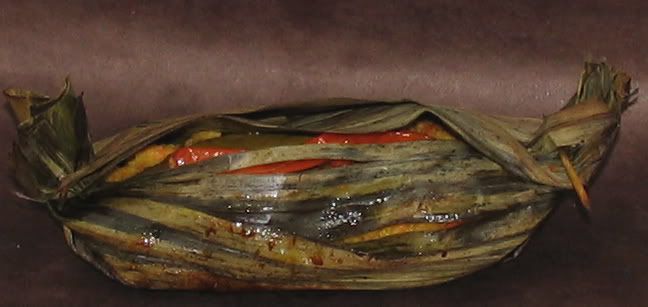 This is how it looks like before unwrap
Prepare the steamer, and let it boil on medium high heat.
Place * ingredients,

except

only use 3 of the kaffir lime leaves in a mortar and pestle, or food processor and process until you have the consistency of a paste. Fry the paste with 1 tbs of oil until fragrant. Taste if need salt, since the shrimp paste or the fish salt are very salty, it is a good idea to taste the paste before adding more salt. I normally don't need any salt. Cool slightly.
In a large bowl, combine the fish with coconut, and the paste. Mix well.
Prepare about 3 - 12" to 14" square Banana's leaves, transfer the fish mixture equally among each banana's leaves. Top with 2 fresh cayenne, or fresh Thai chilies, and fresh kaffir lime leaves. Secure the ends with the tooth pick. Steam the parcels for 10 minutes. Meanwhile prepare your grill.
Transfer the parcels to a plate, brush with a little bit of oil. Then grill (do not unwrap) for 2 minutes on each side.
Serve unwrap with steam rice.
She made it so often, and surprisingly, we never get bored of this fiery eggplant dish . In Indonesia, the eggplant is quite different. It is more roundish, like the heirloom eggplant here in the U.S. but, much more flavorful. Though I made it couple of months ago, I thought I will be nice to mention it again, since the theme is making the food that will remind us with our heritage, or country, or simply your mom's humble cooking.
(Shreded Chicken With Young Coconut)
This one is also, appeared at our dinning table very often, she would normally made this from the left over chicken breast, that otherwise, unappreciated by us, the children. But, as soon as she turned it into this dish, we devoured this delectable chicken without any complaint.
The recipe is very simple. Use any left over chicken breast. Make the sambel tabya, which is also very simple to make. You will need to fry sliced shallots, sliced garlic, and fresh chilies. Use your own judgement on how much ingredients you will need. Then add this shallots mixture to fresh grated young coconut. Season with salt and pepper. As simple as that, yet very delectable.
Hope you'll like them!