Cig Edion Brwsiedig Gyda Llysiu (Braise Beef With Vegetables)
Recipe from: Welsh Heritage Food And Cooking, Annette Yates
I have been to England, mainly stayed in  London (love London very much, with all those cool boutiques) for more then couple of time, but never really had a chance to visit other area. I would love one day to visit Scotland and  Welsh! 

Why Welsh?
1. My friend originally from Wales, and he is so witty, cool and have a very heavy Welsh accents when he talk....
2. Beside English, they have their own language that sounded so totally cool, don't believe me? try to read the title of this dish. You see? Sounded very cool......doesn't it?
3. I think the region is very beautiful and the food, I must admit is simple and  good. I don't know why people always have the perception that English food is bad? I haven't had this experience at all when I was there. 
Ingredients:
1 kg Stewing steak, cut into 5 cm cubes
3 tbs flour
2 tbs oil
1 large onion, thinly sliced
1 large carrot, thickly sliced (I've  substituted it with  1 red bell pepper)
2 celery sticks, finely choped (I've substituted it  with green beans cut into 2" long, about 1 cup) 
1/2 pint beef stock
2 tbs tomato paste
1 tsp dried mixed herb
1 tbs dark muscovado sugar
225 g baby potatoes (I didn't use any)
2 leeks, thinly sliced
salt and ground black pepper
Preheat oven to 300F
Season the meat with flour, fry them until brown in all side with little bit of oil in a dutch oven pan in two or three batches. Transfer to a plate and set aside
Add onion and the vegetable to the pan and cook until soft and fragrants. Return the meat to the pan, add the stock, tomato paste, herb and the sugar.
Stir and scrapping up any tids and bits that has stuck in the bottom of the pan. 
Cover with a tight fitting lid and put in the oven for 2 - 2  1/2 hours until the meat is very tender
Gently stir in the leeks and cook for a further 10 minutes or until the leeks is soft.
Recipe from Traditional British Cooking, Hilaire Walden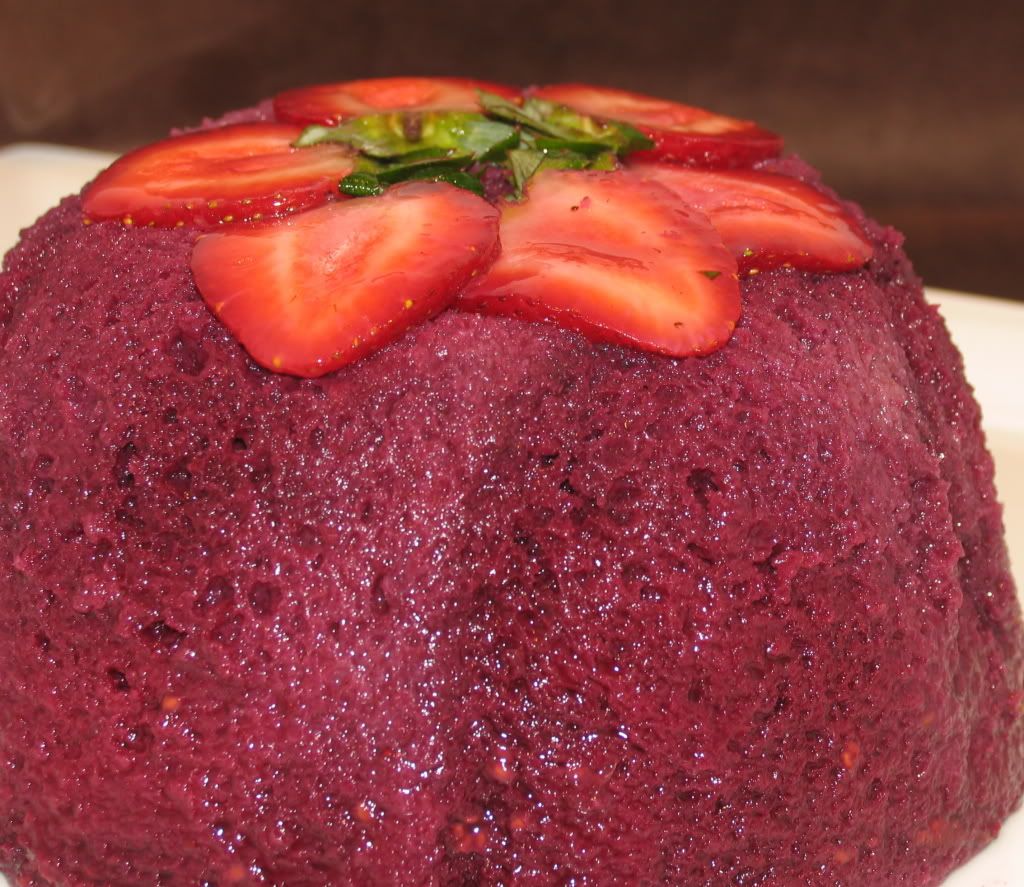 So easy to make, taste so fresh and super delicious. The use of  brioce bread instead of regular white bread give this pudding more buttery taste. You can substitute it with regular white bread if you like. 
Ingredients:
8 thin slices brioce bread, crust removed
1  1/4 lb mixed summer berries
2 tbs sugar
2 tbs water
Cut around from one slice of the brioce/bread to fit in the base of 2 pints pudding basin, over lapping them slightly so there are no gaps.
Gently heat the fruits, sugar and water in a large heavy sauce pan, shaking the pan occasionally until the juices begin to run.
Reserve about 3 tablespoon fruit juice, then spoon the fruit and the remaining juice into the basin.
Cut the remaining brioce/bread to fit entirely over the fruit. 
Stand the basin on  a plate and cover it with a sauces that will just fit inside the top of the basin. Place a heavy weight on top. Chill the pudding and the reserve fruit juice overnight.
Run the knife carefully around the inside of the basin rim, then invert the pudding onto a cold serving plate. Pour over the reserve juice and serve.