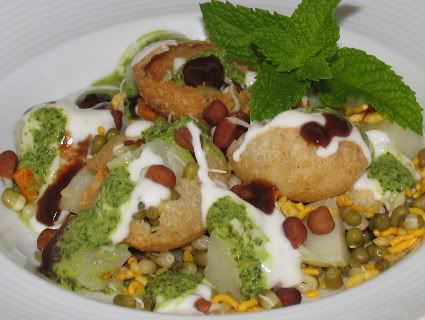 I think "
Chaat
" mean savory snacks in Hindi.
I remember how much I love this snack (more of a meal for me) when my husband and I,  went to visit  a new   Indian friend couples, last year. 
They served refreshing and very filling Chaat as an appetizer. We didn't know it was an appetizer, because there were other small small fried snacks, that they also served. It was a little bit too much for an appetizer really, loaded with potatoes, sprouted garbanzo and mung bean. These are carbs, lots of carbs!
After finish a bowl (quite a large bowl, I felt bloated) of this appetizer, I honestly couldn't eat anything else. Both my husband and I thought that was it, that was our dinner, and we were actually quite happy and felt great because the food was vegetarian, though not necessarily healthy (think fried food). Of course we were wrong, there was more food than you can imagine. 
We felt so bad, because she made lavish Indian food, and we knew how much work it was for her to prepare such dishes. So, we tried to eat, very slowly......though we couldn't concentrate with what we eat, we had a nice night! And we had to passed on the dessert (another very filling dessert, rice pudding) 
She understood and was kind enough to offer the dessert to bring home!!!!!!!
Anyway, I serve this as a
lazy Sunday lunch
, it is especially nice when the weather is hot. I also cook the potatoes, garbanzo and the mung bean the night before, then refrigerate over night. I like to serve  them cold. But it is really up to you, you can serve them  at room temperature if you wish. 
All ingredients are available at the Indian grocery! The measurement that I give  here, is just approximately.
Serve 6 
2  package Poori

1 package thin sev
1 package sprouted moong bean
1 package sprouted garbanzo
6 medium size Yukon gold potatoes
tamarind sauce (it comes in a bottle)
1 cup (more or less) yogurt
mint or coriander chutney (store bought from a jar or frozen)
1/4 cup finely chop red onion
cumin seeds (optional), lightly toasted, then grind.
Boil potatoes, cool, cut into bite size.  Blanch the moong bean sprouts, cool completely. Cook garbanzo sprout until slightly soft but still a bit firm, cool completely.
To assemble, take about 5-6  Pooris, gently break it in the center and put about 1/3 cup chop potatoes, 3 tablespoons sprouted moong beans, 3 tablespoons sprouted garbanzo, sprinkle with 2  tablespoons Sev. Top it with 3 tablespoons yogurt, 1-2 tablespoons chutney, 1 tablespoon tamarind sauce, and sprinkle with cumin powder, if using. 
Serve as a vegetarian lunch or use smaller portion as an appetizer!