I wanted to impress my father in law who came to visit us couple weeks back by making this (What I thought was) traditional Jewish dish. Unfortunately he didn't like it, because it was not the regular kugel that he used to have. I guess this version was little bit unconventional.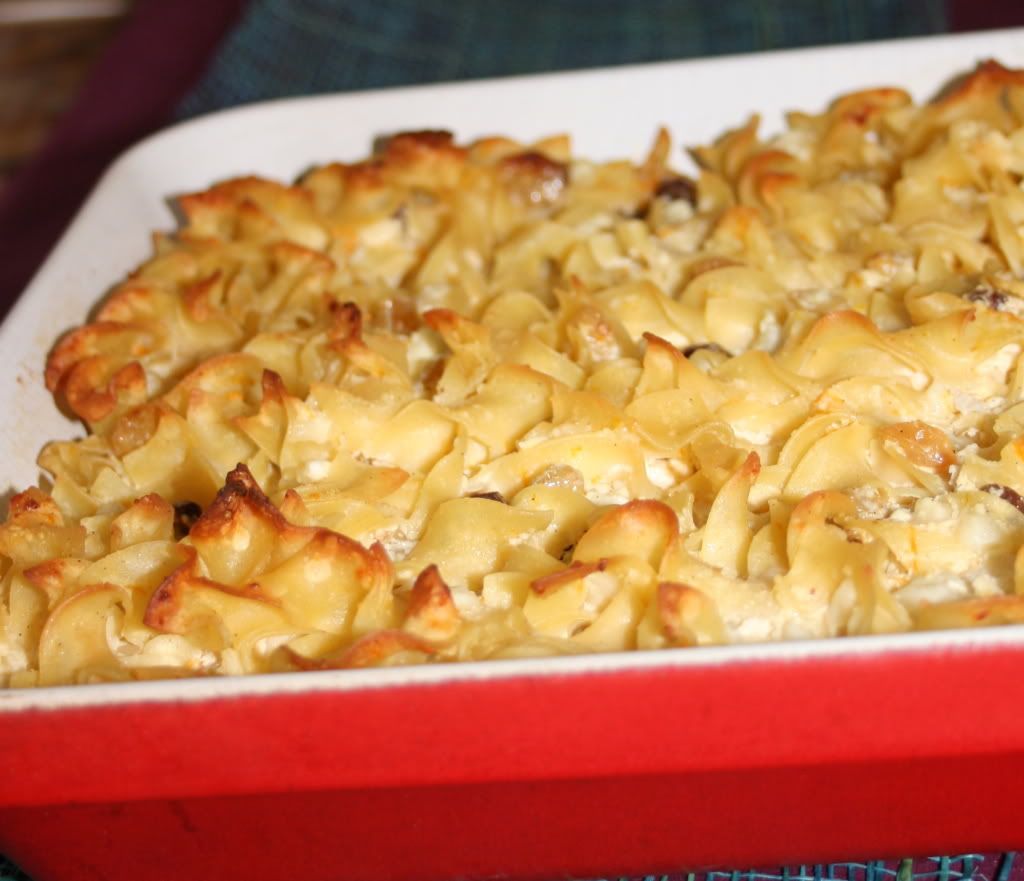 I didn't put any topping as in the original recipe.
The result was delicious, I didn't understand why nobody like it,
except my sister and I?
Recipe Adapted From:
Arthur SCHWARTZ'S "Jewish Home Cooking" Yiddish Recipe Revisited.
Ingredients:
6 eggs
1½ cups 4-percents fat cottage-cheese (I substituted with low fat quark)
1 cup + 2 tbs sour cream (I substituted with crème fraîche)
¾ sugar
2¼ whole milk
¾ raisins
6 tbs butter (I didn't use any, except for greasing the ceramic baking dish)
2¼ vanilla extract
1 tsp grated orange zest
1 tsp grated lemon zest
1 tbs salt
18 ounces wide egg noodles
Topping: (which I completely omitted)
1 cups coarsely crushed corn flakes
2 tbs butter, melted
2 tsp ground cinnamon
Preheat oven to 350⁰F. Grease a 9"x13" baking dish.
In a large bowl, mix the eggs, and the rest of the ingredients

except the noodle

until smooth. Set aside.
Bring water to a boil over high heat. cook the noodle until just before they are fully cooked, about 5 minutes (depending on the package direction). Drain.
Mix the noodle and the eggs-cheese mixture, transfer to a baking dish. Bake for 35 to 45 minutes, until lightly browned.
let stand at least 10 minutes before serving.