Khores-e-qormeh sabzi (Fresh Herb Khoresh With Lamb & Red Kidney Beans)
Recipe adapted from, New Food Of Life:
Ancient Persian and Modern Iranian Cooking and Ceremonies
(This book was given to me by my dear brother in law, Bijan)
Serve 6
Ingredients:
2 large onions, thinly sliced
2 pounds lamb shanks or 1½ pounds deboned leg of lamb cut into 2" pieces, or 2 pounds chicken legs, cut ups
½ cup oil (actualy you don't need this much oil, I only use about 2 - 3 tbs, and that should be sufficient)
1½ tsp salt
¾ tsp freshly ground black pepper
½ tsp turmeric
⅓ dried kidney beans
4 whole dried Persian limes (limu omani), pierce
4 cups finely chopped fresh parsley or 1 cup dried
1 cup finely chopped fresh chives or ¼ cup dried
1 cup finely chopped fresh coriander
1 cup chopped fresh funegreek leaves or ¼ cup dried
2 tbs dried Persian lime powder (limu-omani) or 4 tbs fresh lime juice
1 tbs
advieh-ye-khoresh
, optional (simply omit it, if you want to follow the recipe given by this book)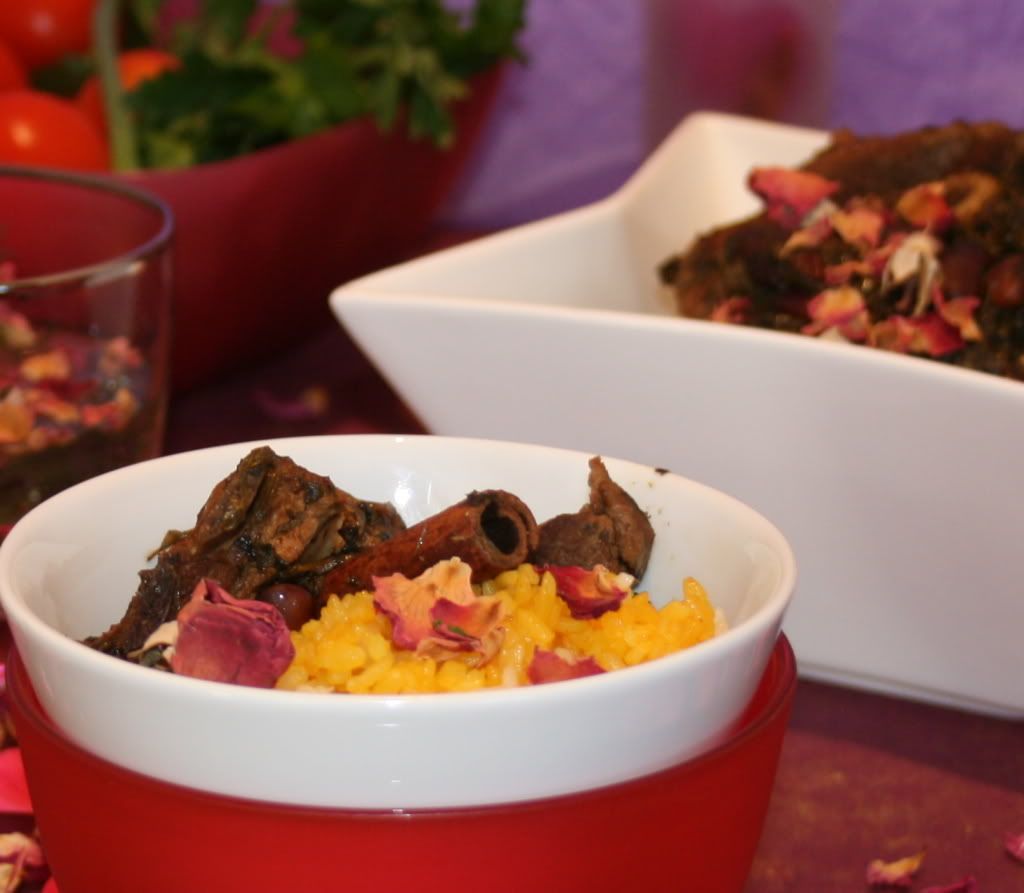 In a dutch oven over medium heat, brown the meat, or the chicken with a little oil (about a tablespoon) on both side, transfer to a plate lined with paper towel, to soak up the excess oil.
Add the onion to the dutch oven (adding more oil is not necessary since you will have lots of oil from the meat that you were just frying), cook until translucent. Stir in the salt, freshly ground pepper and the turmeric, add 4 cups of water if using the meat, and 2 cups if using the chicken. Return the meat, or the chicken back to the pot. Add the kidney bean and the whole persian limes. Bring to a boil, then simmer over a low heat for about 30 -45 minutes.

Meanwhile, fry over medium heat the parsley, chives, coriander, and the funegreek leaves in the remaining oil. Cook and stirring constantly for about 20 - 30 minutes. The aroma of the herbs will rises

.

It is important that you don't skip this process, or it will impart the taste of your stew!

Add the fried herb and the lime powder or lime juice to the pot. Cover the pot, and simmer over low heat for another 2½ hours. Stirring occasionally.
Serve with

chelow

, (if you curious about the different type of rice cooking technique and the names, click

here

) saffron-steam rice, or

my potatoes crusted-saffron rice

.
Note:
The original recipe doesn't require the spice mix for this khoresh, I've added about 1 tablespoon "
Advieh-ye-khoresh
" (
this fragrant spice mix contain dried flower such as roses and angelica, you'll soon find your self becoming addicted to its perfumed
) for this recipe. In the past I've tried both the original version from this book, and the one that I've adapted by adding
advieh-ye-khoresh (persian spice-mix for khoresh)
. My family prefer the one with the spice mix, I encorage you to try both version to see which one you like better.