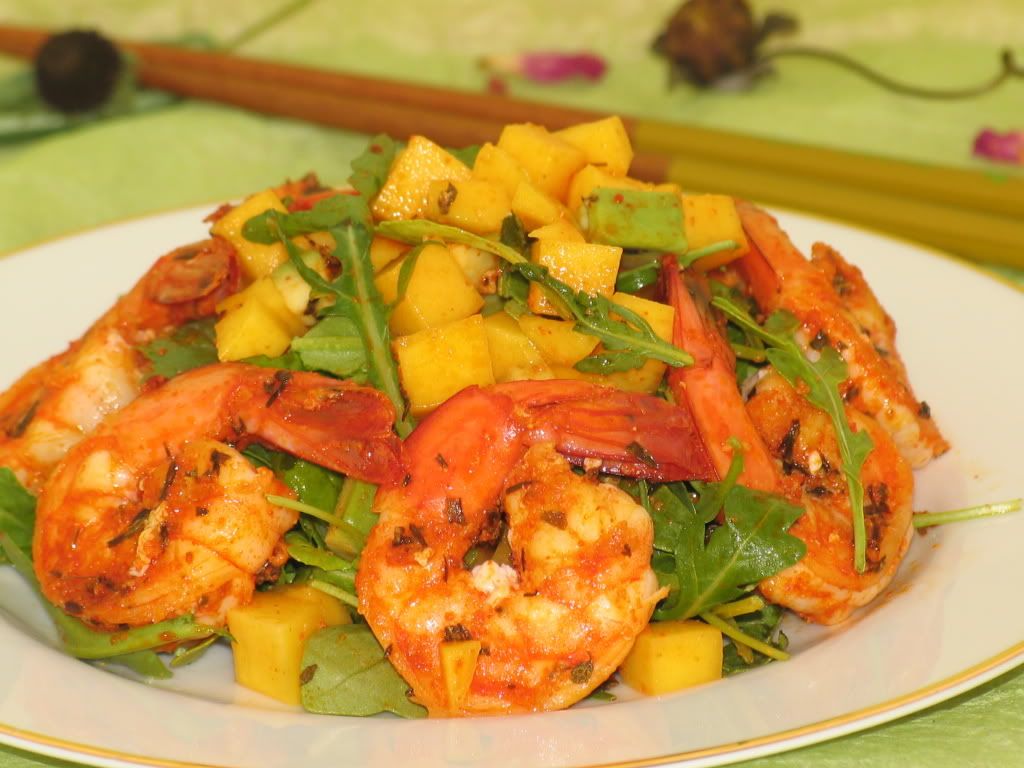 My husband is not particularly fond of shrimp or shell fish in general, except crab, but he never really mind if I cook shrimp or add shrimp in any of my cooking. He simply fish it out and enjoy the food with no fuss. He is that simple and am forever bless!

This recipe, yield 4 serving
Ingredients:
1  1/2 lb extra large shrimps
4 tbs olive oil
2 cloves garlic, minced
2 tsp ground cumin
1 tsp ground ginger
2 tsp hot paprika
1/2  tsp cayenne pepper
1 tbs finely chopped cilantro
1 mango, diced
1 avocado, diced
4 - 5 cups baby arugula
juice of 2 limes
salt and pepper, to taste
In a medium bowl, make the marinate by mixing 2 tbs olive oil, cumin, ginger, paprika, cayenne pepper and chop cilantro. Add the shrimps and let it sit to marinate in the refrigerator for 15 - 1 hour.
Heat the iron skillet over medium high heat, season the shrimps with salt and pepper, and cook them for about a minute on each side.
In a small bowl, combine the rest of the olive oil with limes juice, salt and pepper. Mix well and set aside.
Put mango, avocado and baby arugula in a salad bowl, add the dressing and toss well.
Arrange the salad  in an individual plates, top each plate with 4 - 5 shrimps.