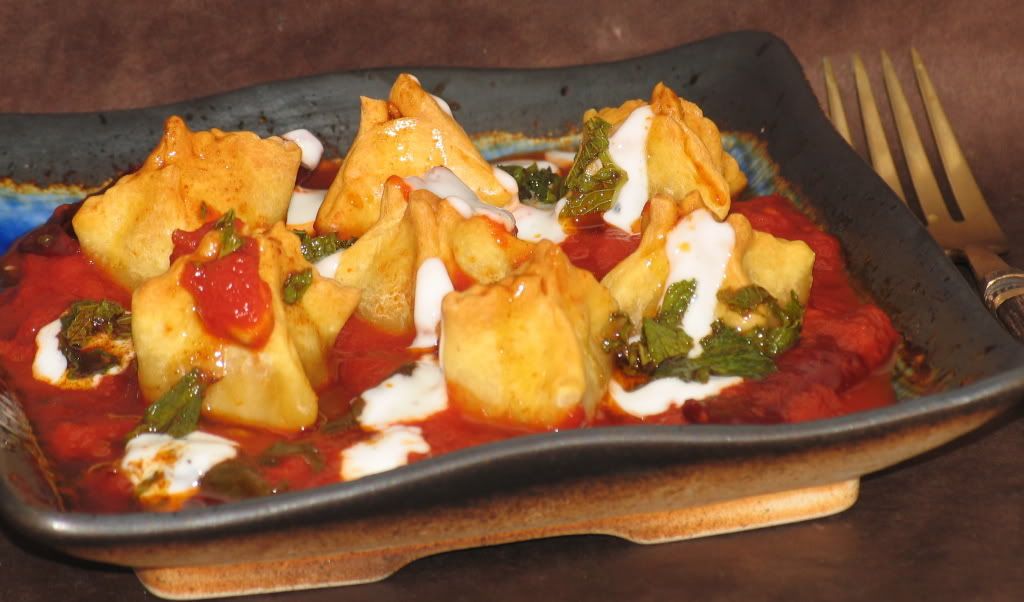 Manti is Turkish dumpling that normally filled with ranges of spicy ground meat, garbanzo, spinach to different kind of chopped nuts. This one is the vegetarian version using garbanzo bean.
2 cups all purpose flour
1/2 teaspoon salt
2 eggs, lightly beaten
1/2 cup cold milk
1 tablespoon olive oil
2 cups light sodium chicken stock
Put the first three ingredient in a mixer, with the dough hook on a low setting, mix the ingredients, add olive oil and the cold milk little by little until all the dough just start to form a clump. Change the setting to medium and continue to process just until its start to pull away from the side of the bowl. Transfer into kitchen counter top, shape into a ball, cover with a clean kitchen towel and let the dough rest at room temperature for 1 hour.
1 can (14 oz) garbanzo bean, drained
1 teaspoon ground cumin
1 teaspoon crushed coriander
1 teaspoon ground red pepper (optional)
salt and pepper
Combine the ingredients for the filling in a bowl, mix well (do not over mix) cover the bowl with plastic wrap and refrigerate for an hour.
Preheat the oven to 375F.
Turn out the dough onto lightly floured counter top. Roll the dough as thin as possible into a retangular. Cut the dough into 2" squares.
Place the filling into each square, about 1 teaspoon each.
Bring four corners on each square together and press them with your fingers, so that the dough is seal.
Place the dumpling into lightly oiled baking pan (at least 2" high), bake them for 15 - 20 minutes or until they are lightly browned.
Remove the pan from the oven, pour the chicken stock over the dumpling and return the pan to the oven. Lower the oven temperature to 325F, and bake for another 15 - 20 minutes. Take out from the oven, let rest for 5 minutes before serving.
To serve: ladle the tomato sauce into a warm plater, add the dumpling, drizzle with yogurt garlic sauce and paprika oil.
1/2 onion, diced
1 clove garlic, sliced
1 canned fire roasted tomato
2 tablespoon finely chopped parsley
salt and pepper to taste
Saute onion until translucent in a medium pan over medium high heat, add garlic, cook for a few second then add canned tomato. Continue to cook for another 10 minutes. Add parsley season with salt and pepper, stir and taste to see if need more salt or pepper.
In a medium bowl, combine 2 cups plain yogurt, 1 teaspoon mince garlic, juice from 1/2 lemon, salt and pepper to taste.
Heat gently 2 tablespoon olive oil, 1 tablespoon finely chopped fresh mint in a medium heat. As soon as the mint wilted, turn off the heat, then add 1 teaspoon sweet paprika. Swirl the pan to mix all ingredient.