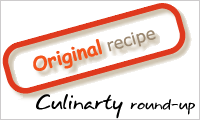 So I am sending this to
Lore
for her event "
Original Recipe
"
Za'atar
is middle eastern mix of wild herbs, spices and sesame seeds. If you can't find Za'atar in your area, you can make your own using dried herbs such as, thyme, marjoram and origano. Mix the herbs with ground cumin, ground coriander and ground fennel seeds. Add saseme seeds to the mix, transfer to air fitting jar. Now you have your own za'atar.
I found out about za'atar when I visited the Middle Eastern Store in my area. I always intrigue by spices that sounds strange or I never herd before. I grabbed a bag without even thinking what I was going to use it for. When I read the ingredients, which basically contained herbs and spices, I thought this ought to be good. I couldn't go wrong with this herb-spice mix. I went home and showed it to my husband (I tend to do this a lot, showing what I buy from market or even from boutique, which I think it's a bit silly thing  to do)  Anyway, I was surprise that he got pretty excited about this za'atar. He told me, when he lived in Jerusalem (he lived there for 5 years) He used to buy flat bread from the Iraqis vendor. This bread was serve warm with za'atar sprinkled on top. The bread was bake in a dome shape clay/mud oven, by slapping the dough to the side of the oven. It's like a tandoor oven I guess. He said that was the best bread he ever had, and he almost had it everyday. However, I never really had a chance to taste this bread every time I visited Israel. I should remind him to bring me to this vendor for my next visit (I hope he still there, considering how many years ago it was, when my husband last tasted his bread)
Back to the recipe, 
you can use za'atar to marinate any type of fish, it is also good for cornish hen, chicken or quail, but you need to marinate it over night to deepen the flavor. What I really like about this recipe is that you don't really need a lot of time to make it and taste absolutely delicious serve with rice pilaf, plain rice, or  
spiced couscous with dried fruits.
Here is the recipe:
2  1/4 lb Wild Salmon
1 tbs za'atar
1/2 tbs Fish Sauce*
2 tsp Smoke Cipoltle flakes
1 tbs sesame seeds
1 tbs olive oil
lemon juice from half lemon
1 tbs finely chopped parsley
1/4 tsp sea salt
freshly ground black pepper, to taste
In a small bowl, combine zatar, fish sauce, smoke chipoltle flakes, sesame seeds, olive oil, lemon juice, chopped parsley, salt and pepper. Mix well, rub this mixture in to the wild salmon. Let the salmon marinate at least an hour.
Grill, skin side down first for 2 - 3  minutes on a medium high heat. Turn it over, continue to grill to desire doneness.

* Fish sauce has a very strong odor and flavor, I recommend to find the best brand available in your grocery store. I like  the "Three Crabs" brand compare to other brands, I think it has less strong odor and very flavorful. You can substitute the fish sauce with tamari or soy sauce.