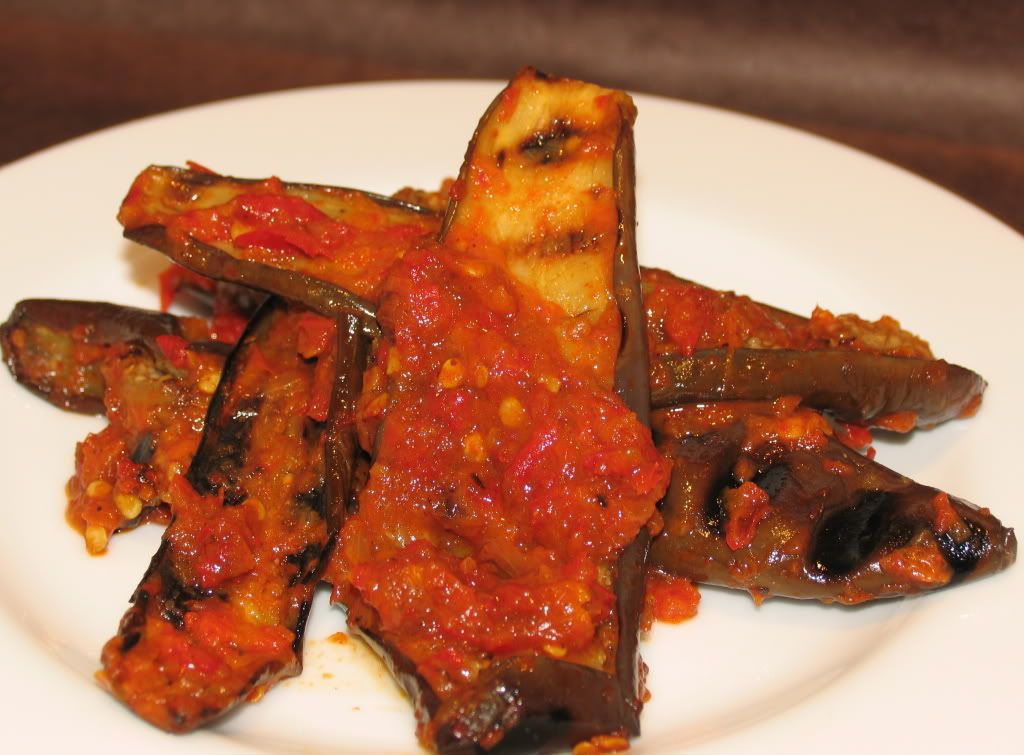 This Indonesian eggplant will guarantee become your favorite eggplant dish. 
The original recipe require frying the eggplant before adding the sauce, but  my mom would grill the eggplant instead, it really does give the eggplant smokier flavor.

15  Japanese eggplants (find the smallest one) cut in half (length wise)
oil for brushing the eggplants
Preheat the grill. Brush each eggplant with oil and grill on both side until done. Set aside.
3 shallots
3 cloves garlic
10-15 red Thai chiles (if you dare) 
1 cup chopped tomato
1 tablespoon fish sauce, or 1/4 teaspoon shrimp paste
salt & pepper to taste
2 tbs canola oil
In a large skillet over medium high heat, fry the shallots, garlic, Thai chiles and tomato with one tablespoon canola oil. Fry just until they are soft. Turn off the heat and let it cool a bit.
Transfer the content to a food processor, add

Balinese Pepper

, and process until becoming a smooth sauce.
Return the sauce to a large skillet or a wok, add 1 tablespoon canola oil and saute for a minute. Add the eggplants, stir once or twice just enough to mix the sauce and eggplants together. If you stir too much, the eggplants will break or turn into mush.
Add fish sauce and pepper, taste to see if its need salt. 
Serve with plain steam Jasmine rice.
Note: for vegetarian version, omit the fish sauce! Don't forget to turn your exhaust, turn it high otherwise you'll end up sneezing and your eyes watering! It's that spicy!