To honor China as the host for the 2008 Olympic, all of us at the "MKMW"  will be cooking chinese cuisines. I am very excited to see what other member contribute  for this event. As usual, I choose recipe that is simple, easy and make sure that my family will enjoy as well. Most importantly, both of my sisters will be able to make it in their own kitchen.

Henry Hugh's Cantonese Stuffed Tofu

Recipe from "The Breath Of  Wok" by Grace Young & Alan Richardson
Serve 4
Ingredients:
1 tablespoon dried shrimps
4 squares firm tofu (14 ounces)
4 ounces ground pork (I've substitute pork for chicken)
2 teaspoon cornstarch
1/4 teaspoon sugar 
1/8 teaspoon ground white pepper
1 teaspoon sesame oil
1/4 cup minced scallions
2 tablespoon canola oil
1 garlic clove, thinly slice
3/4 cup chicken broth
2 teaspoon soy sauce
1 tablespoon black soy sauce
1 tablespoon oyster sauce
Cilantro sprigs, optional
Boil shrimps for 2 minutes, drain and mince. Set aside

In a small bowl, combine 1/2 cup of chicken broth, soy sauce, black soy sauce and 1/2 teaspoon sesame oil and oyster sauce. Set aside
In a medium bowl, combine the pork or chicken , 1 teaspoon of cornstarch, sugar, pepper, 1/2 teaspoon sesame oil, scallions and minced shrimps.
Cut each tofu square diagonally into 2 triangles. Hollow a long the cut edge, removing some of the bean curd. Stuff each triangle with 1 tablespoon of the filling. Packing it to extend beyond the pocket.
Heat a wok over high heat. Swirl in the canola oil and add each tofu triangle pork/chicken side down.
Reduce the heat to medium and pan fry about 2 minutes. Scatter the garlic and cook for 1 minute. Add 1/4 cup of chicken broth and bring to boil over high heat. Cover and reduce the heat to medium and simmer for about 3 minutes.
Add the chicken broth - soy sauce mixture, bring back to a gentle boil. In the meantime combine 1 teaspoon cornstarch and 2 tablespoons cold water. Pour this mixture into the the wok, gently stir for 30 seconds until the sauce is slightly thickened and the pork or chicken cooked through.
Garnish with cilantro if desired.
*The original recipe doesn't have any dried chilies, I've added some for my own taste. I think it adds some flavor to it.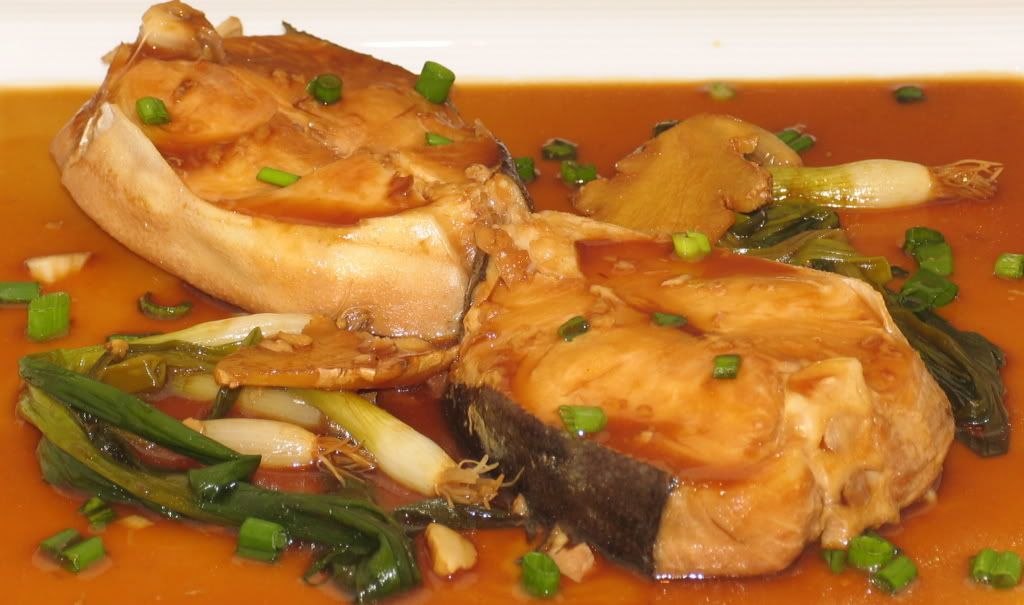 Braised  Halibut With Ginger And Scallions
Recipe adapted from "Taste of China" by Deh-Ta Hsiung 
Serve 2 - 4
Ingredients:
2 halibut fillets, or any other white fish, weigh about 1  1/2 pounds
1 bunch of scallions (about 8)
4 tablespoons light soy sauce
4 tablespoons Shao Hsing sauce
2 slices ginger
1 tablespoon sesame oil
Arrange all ingredients in a clay pot, cook over medium heat until the fish is thoroughly cook, about 10 - 15 minutes. Serve immediately with plain steam rice.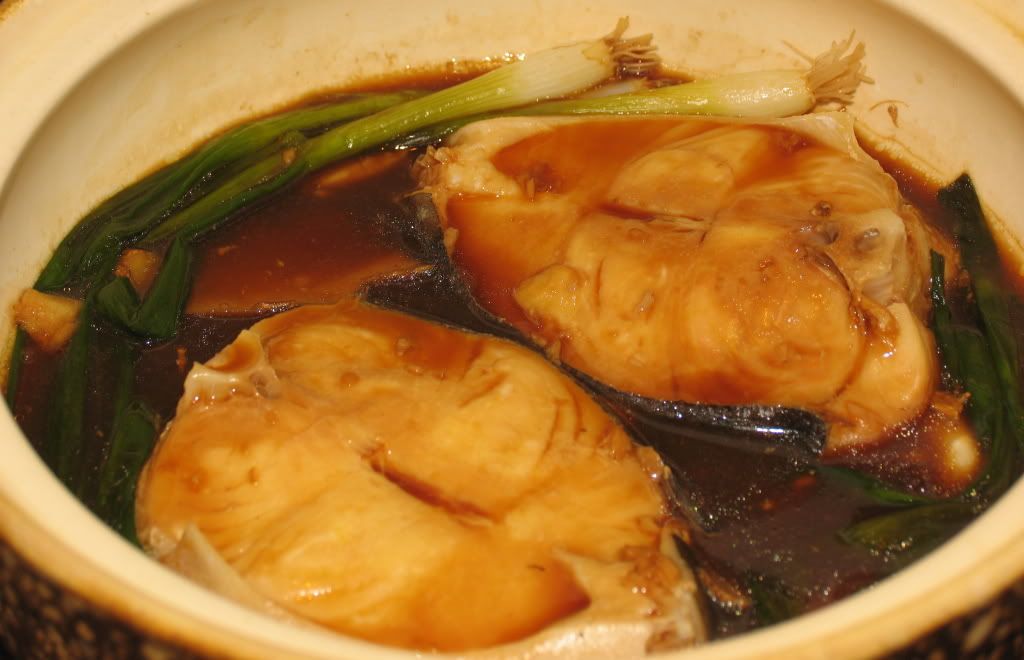 I hope you like it! 
I (with my husband, my son and his friend) will be leaving for Bali on Sunday to visit my family and also to celebrate Balinese Hindu Festival "Galungan". we'll be back home in the U.S on the 26th of August. It's a short visit, but we'll meet every single of my family in the village. So we are excited!