These are the menu that I made for this week challenge, ITALY! 

Gnocchi Alla Romano serve with Fricaseed Cornish Hen and Simple saute Broccolini with Olive Oil and Garlic. And for dessert? Chocolate Gelato!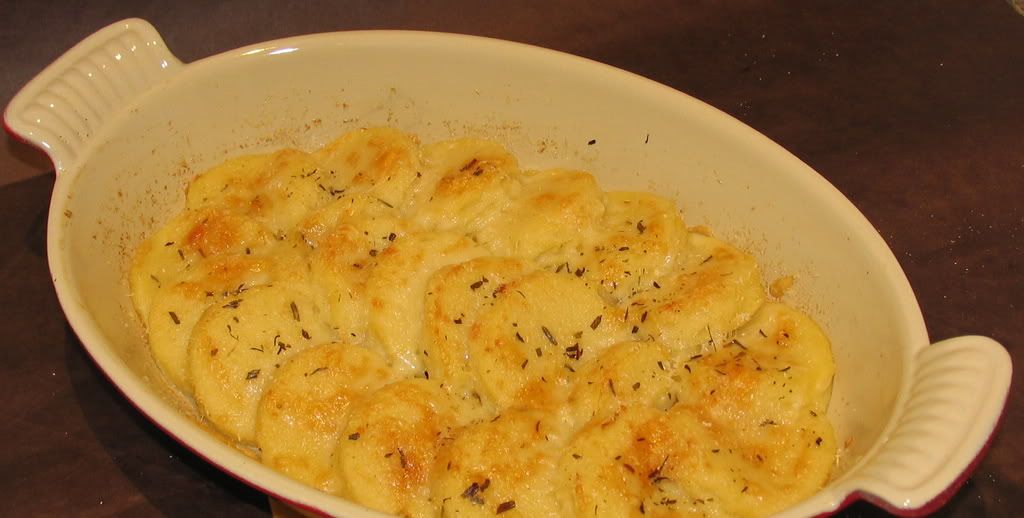 This gnocchi is our favorite, it is especially good serve this with
Veal Involtini
or Osso Bucco. It is also good with simple marinara sauce as a vegetarian dish.
3 cups chicken stock
1 cup semolina flour
1 egg, lightly beaten
1/3 cup grated parmesan
freshly crack black pepper
In a medium large sauce pan over medium high heat, whisk together chicken stock and the semolina flour until the mixture is thick and start to bubbles. Gradually add the beaten eggs and mix until well blended
Transfer the gnocchi to a baking sheet that has been lightly coated with oil. Cool completely, cover with plastic and refrigerate until the mixture is firm.
Preheat oven to 375F. Lightly butter a gratin dish, set aside. Cut out the gnocchi using a round 2" cookie cutter. Arrange the gnocchi in to gratin dish with slightly overlapping them to form a single layer. Sprinkle with cheese and crack pepper.
Bake 20 minutes or until golden and crusty. Let stand 5 minutes before serving.
***OO***
Pollo  All'Abruzzese  Coi  Pomodorini  E  Le  Olive
Fricasseed Chicken Abrzzi-Style with Rosemary, White Wine, Cherry Tomatoes And Olives
Adapted From Marcella Hazan, Marcella Cucina Cookbook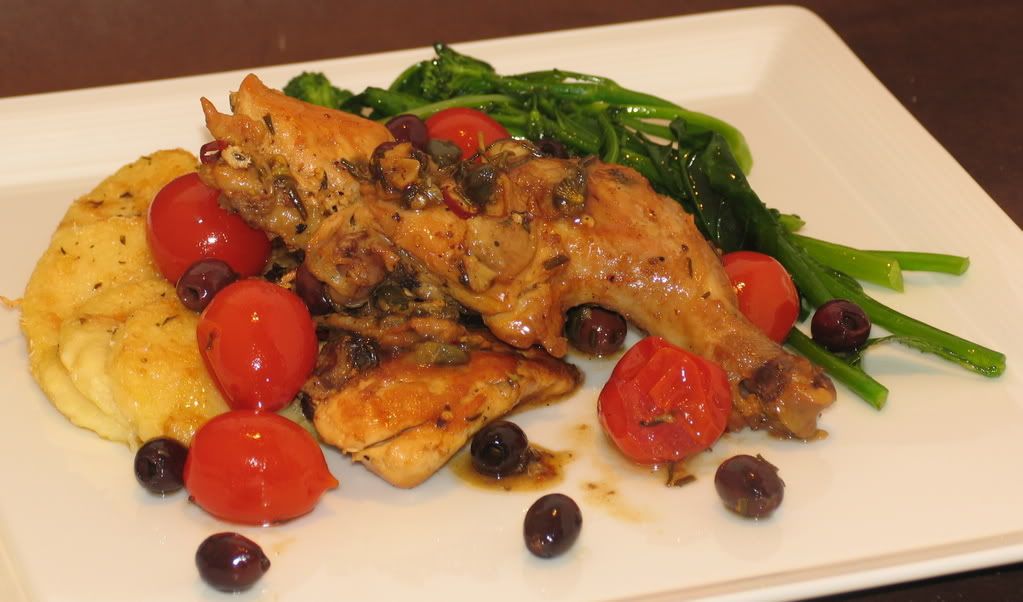 The  original recipe use a regular chicken, as usual I use cornish hen instead which has much more flavor. I also added capers to the recipe since my son really loves capers.
2 cornish hen, rinse under cold running water, pat dry and cut each hen into 4 pieces
1 tablespoon olive oil
5 clove garlic
2 teaspoon finely chopped rosemary
1 teaspoon chili flakes
1/2 cup dry white wine
15 - 20  cherry tomatoes
1/2 cup Nicoise olives
2 tablespoon capers
Heat a large

braiser

on a medium heat until really hot, add olive oil and put all of the chicken pieces with the  skin side down. cook until the chicken skin is  well brown.
Turn the chicken, add garlic, chop rosemary and chili flakes. Sprinkle with salt and pepper and stir to coat the chicken. Add the dry white wine and scrape the pan with a wooden spatula to get all of bits and pieces that sticking at the bottom of the pan.
Put the lid on the pan, turn the heat to low and cook for 35 minutes, turning the hens from time to time.
After 35 minutes add the cherry tomatoes and the black olives. Continue to cook for another 10 minutes or until the tomatoes are beginning to crack.
Transfer to a platter and serve with gnocchi alla Romano and saute broccolini
***OO***
I made this Chocolate Gelato on Wednesday and still have enough left over for the whole family, I serve this with raspberry. You are welcome to check the recipe
here
if you would like to make this  "Italian style Ice Cream"